The 18-year-old who confessed to the deadly August 18 knife attack in the Finnish city of Turku had lived in Germany between late 2015 and early 2016.
Until April last year he was registered as living in Dortmund in the western state of North-Rhine Westphalia (NRW), after which the foreigners' office listed his address as unknown. He was also officially registered in the northern state of Lower Saxony.
According to German news agency dpa, the man used multiple identities while in the country. German public broadcaster WDR reported that he had come to the attention of police in the NRW city of Neuss in January 2016, when he was investigated for an assault in a refugee home, and two weeks later in the town of Kerpen, also in NRW, for grievous bodily harm.
According to Germany's interior ministry, he had not applied for asylum in Germany but his identity had been recorded by authorities. Police were continuing to investigate the time the man spent in Germany.
Asylum application in Finland
Named as Abderrahman M. in Finnish court documents, police said he came to Finland and applied for asylum in 2016. According to media reports, his application was rejected. While that was not confirmed by Finnish authorities, a spokeswoman from the National Bureau of Investigation said he had appealed the result of his application.
On Tuesday, he confessed to stabbing two women to death and wounding six women and two men in central Turku on August 18, but denied intent to murder. He had apparently targeted women in the knife attack.
"[My client] admits manslaughter and injuries... But what the investigator has brought up this far may not be enough to classify this as a terrorist crime," lawyer Kaarle Gummerus told the Reuters news agency following a closed-door hearing.
M. appeared in court via video link from the hospital where he is being treated after being shot in the leg by police in the wake of the stabbings. The court ordered he be detained in prison pending trial. He is yet to be charged with any offense. Finnish police had called for the attack to carry charges of murder and attempted murder "with terrorist intent."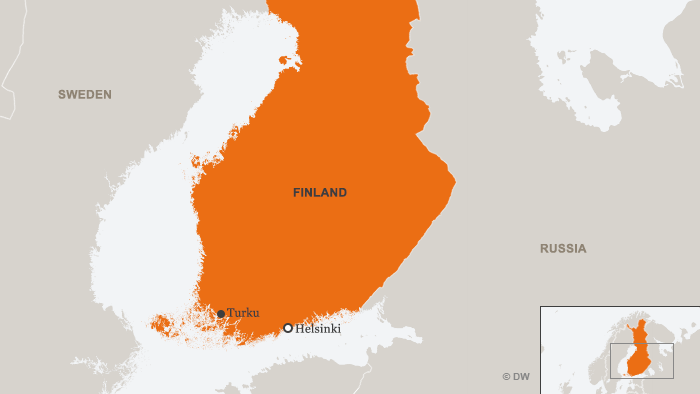 Moroccan nationals detained
Following the hearing, Olli Toyra of Finland's National Board of Investigation told reporters police were still investigating the motive for the attack, including whether M. had acted alone or been influenced by anyone else. He added that police were continuing enquiries to conclusively confirm the suspect's identity and age.
In separate hearings, three other Moroccan nationals in their teens and 20s living in Finland were remanded in custody on suspicion of involvement in the crimes, though investigators have not detailed what role they are suspected of playing. A 24-year-old man has meanwhile been freed. An international arrest warrant remained outstanding for another suspect who was believed to have left Finland. Finland's Red Cross said M. and two of the four arrested Moroccans were asylum seekers and had lived at a reception center in Turku.
At least two of them had also spent time in Germany, where they had been suspected of crimes including using false identities and theft.
The conduct of German authorities when it comes to the handling of migrants using multiple identities or implicated in crimes has come under increased scrutiny since it emerged that the main suspect in the Berlin Christmas market attack, Anis Amri, was a rejected asylum seeker and known drug dealer who had been under police surveillence.
se/rt (dpa, Reuters, AFP)