Speaking after a special party meeting on Thursday, Davutoglu confirmed he would not, under the current circumstances, run as a candidate for head of the ruling Justice and Development Party (AKP) at an extraordinary congress set for May 22.
"I decided that for the unity of the [ruling party], a change of chairman would be more appropriate. I am not considering running at the May 22 congress," the prime minister said.
Davutoglu's resignation was expected to pave the way for a new prime minister, but the leader told Turkish citizens not to worry, because a "strong" AKP government would continue to govern the country.
According to AKP statutes, the post of party head and prime minister should be held by the same person.
"I feel no reproach, anger or resentment against anyone," Davutoglu said, adding that he would not resign from the AKP, but "continue the struggle" as a ruling party legislator.
The news came a day after intensive talks with President Recep Tayyip Erdogan did little to resolve their growing differences with each other. But the premier denied having any spat, saying he would "never utter a word" against the president, whose words he valued above all.
Meanwhile, Turkish stocks fell by 2 percent on Thursday to eight-week lows after Davutoglu's exit as prime minister became a possibility. Analysts said investors were likely to focus on which ministers retained key cabinet roles once the premier left.
Erdogan accused of authoritarianism
A headline in the "Hurriyet" daily called the leader's resignation "A new era in the AKP," while the opposition "Cumhuriyet" newspaper termed the incident a "Palace Coup," referring to Erdogan's latest attempts to strengthen his position - and to his notoriously luxurious new palace.
According to experts, Davutoglu's exit paves the way for Erdogan to appoint a more pliant head of government and gather enough support to pass controversial constitutional changes designed to transform the ceremonial head of state position into a more executive presidency like the one in the United States.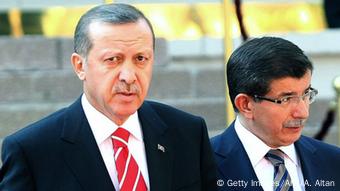 President Erdogan (pictured left) is aiming for constitutional changes to consolidate his power as president
Davutoglu took over as the country's prime minister in 2014, when Erdogan reached his term limit as head of government and so sought the presidency instead. Davutoglu's decision to step aside comes at a tumultuous time for Turkey, including a military campaign against Turkish separatists, terrorism, corruption and a crackdown on independent media.
Power 'in one person's hands'
The departure of Davutoglu "will allow Erdogan to distance himself from some of his failed policies that can be attributed to Davutoglu," Soner Cagaptay of the Washington Institute think tank told the AFP news agency. "It shows how much power has been amassed in one person's hands."
The country has also signed a crucial refugee deal with the European Union to take back Syrian migrants fleeing war and traveling to Europe. In return, however, the EU is to take people from refugee camps in Turkey. Ankara has used Europe's refugee concerns to negotiate visa-free EU travel for its citizens and a resumption of discussions on EU membership, as well as financial assistance of at least 3 billion euros.
mg/msh (AFP, AP, dpa)