Turkish Prime Minister Ahmet Davutolgu on Thursday accused the country's top Kurdish opposition politician of "treason" for suggesting during a visit to Moscow that Turkey was wrong for shooting down a Russian jet last month.
Selahattin Demirtas, the co-chair of the pro-Kurdish Peoples' Democratic Party (HDP), met with Russian Foreign Minister Sergei Lavrov on Wednesday in a visit that comes amid a crisis between Moscow and Ankara over the November jet downing and spiraling violence between Turkish security forces and Kurdish militants.
"The HDP co-chair's comments in Russia saying 'Turkey's shooting down of a Russian jet was wrong' is a total disgrace and treason," Davutoglu told a business conference on Thursday, adding that Russia warplanes were killing innocent civilians in Syria.
Russia denies the jet entered Turkey's airspace and has responded to the incident by imposing sanctions, snubbing Turkish overtures to mend fences and accusing of Turkey of backing terrorist groups in Syria.
Turkey and Russia have long been at odds in Syria, each backing opposing sides of the conflict.
Demirtas told Lavrov that as an opposition party the HDP was against the Turkish government's actions that have led to worsening relations with Russia.
He also dismissed on Twitter criticism of the visit, pointing out that the government was "ignorant" as he also visited Moscow last year.
Russia plays the 'Kurdish card'
Moscow's overtures to the Kurds, who make up the second largest opposition in parliament, are sure to further strain relations with Turkey and can be seen as a slap at Turkish President Recep Tayyip Erdogan.
Russia's outreach comes as Kurdish politicians accuse Davutoglu's AK Party government of using indiscriminate force, including tanks and helicopters, in security operations to dislodge Kurdish militants from several towns in the country's southeast.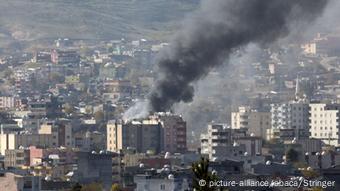 Major operations have turned Kurdish towns like Cizre into warzones.
Several Kurdish towns have been under weeks of 24-hour curfews as the military conducts operations against Kurdistan Workers' Party (PKK) militants that over the past months have dug trenches with explosives and erected walls in several towns and neighborhoods to keep security forces out.
The HDP and human rights organizations accuse the government of killing dozens of civilians and turning cities into warzones. Hundreds of soldiers, PKK militants and civilians have been killed since a two-year ceasefire and peace talks broke down in July.
The Turkish government has vowed to root out every last "terrorist" and accuses the HDP, which received 11 percent of the vote in November elections, of being a legal front for the outlawed PKK.
Demirtas accuses the government and military of targeting citizens who were presented as "terrorists." Meanwhile, a prosecutor this week opened an investigation into Demirtas and four other Kurdish politicians for violating broad anti-terrorism laws and provoking Kurds to resist the security crackdown.
Russia ready to cooperate with Syrian Kurds
Ankara has been accused of focusing on hammering Kurdish militants instead of the Islamic State, an argument brought home by Lavrov on Wednesday.
"We know that there are Iraqi and Syrian Kurds who are fighting the threat of ISIS ("Islamic State") and other extremist groups with weapons on the ground," Lavrov told Demirtas, referring to the PKK's Syrian affiliate the YPG, often considered the best fighting forces against IS.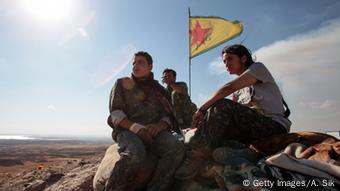 The PKK affiliated YPG are considered some of the best fighters against "IS".
"Russia... is ready to actively cooperate with those on the ground who are fighting this threat," he said in remarks released by the foreign ministry. He added that Russia supports ethnic rights in Turkey, a comment that is sure to infuriate Ankara.
The PKK is recognized as a terrorist organization by Turkey, the United States and Europe. Since 1984, at least 40,000 people have been killed and hundreds of thousands displaced in the conflict.
Millions of Kurds across the region and in Europe support or sympathize with the PKK.
Turkey has watched with alarm the advances of the PKK's Syrian affiliate, the YPG, which has gained broad swaths of territory along the border in Syria backed by US air power against IS.
Turkey is concerned the Kurdish experiment in self-government and expression of rights in Syria will have a knock-on effect on its own Kurds' demand for ethnic rights and autonomy.
Chase Winter/(Reuters)