Turkish journalist Can Dündar launched "Özgürüz" (which translates as "we are free") alongside his colleague Hayko Bagdat. Both journalists have moved to Germany to be part of the initiative after facing persecution for their professional activities in Turkey.
The director of the German division of Reporters without Borders Christian Mihr welcomed the launch.
The investigative website will be bilingual, addressing both German and Turkish audiences, as "Özgürüz" is supported by the German investigative platform "Correctiv," which is run as a non-profit organization.
"We want to inform people in Turkey while shedding light on public affairs in Turkey for our German audience," Dündar explained, adding that the new initiative is intended to pay particular attention to corruption in Turkey as well as the leadership of Turkish President Recep Tayyip Erdogan and his ruling Justice and Development Party (AKP).
"Turkey is currently undergoing one of its worst episodes," Dündar said.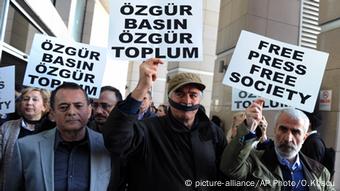 At the end of 2016, Reporters Without Borders (RSF) and the Committee to Protect Journalists (CPJ) voted Turkey one of the world's worst countries for media freedom
"Press freedom, which was limited to begin with in Turkey, has been suspended altogether ever since the coup attempt on July 15. Since the ensuing state of emergenc,y 169 media outlets have been shut down, about 2,000 journalists have been left unemployed and about 150 journalists remain in custody."
One of the ways in which "Özgürüz" hopes to grow is by attracting strong social media support and an active following. Its logo is comprised of a hashtag made up of hands reaching across each other.
'Divulging state secrets'
The "Özgürüz" website was launched on the anniversary of the death of Turkish journalist Ugur Mumcu, who was assassinated in 1993 while he was investigating links between Turkey's National Intelligence Organization (MIT) and insurgents belonging to the Kurdistan Workers' Party (PKK).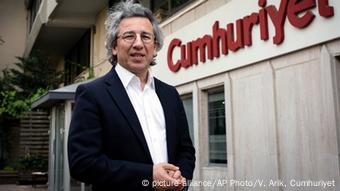 Dündar had to leave his position as editor of "Cumhuriyet" and live in exile in Germany
Dündar rose to international attention in 2015 after being detained for many months in Turkey following allegations of "divulging state secrets" and "spying in aid of terrorist organizations." As editor of the pro-Western "Cumhuriyet" newspaper, he had published a report on covert Turkish weapons exports to rebels in Syria, which allegedly were sponsored and conducted by the MIT.
Paying a high price
Erdogan, enraged by the accusations, personally filed the criminal complaint against Dündar, saying that he would "pay a high price" for his actions. Dündar says that after being released from pre-trial custody he decided to leave the newspaper, his family and his home behind. He was handed a six-year sentence in absentia.
Dündar will therefore likely have to remain in Germany at least for the time being, although future funding and support for "Özgürüz" is far from being granted. The head of "Correctiv," David Schraven, said that funding remains a crucial issue, with only enough finances in place to see the project through for its first few weeks.
Whether or not the news outlet will manage to reach its target audience in Turkey is also still to be seen. Dündar highlighted that while he now may be able to publish freely he didn't know whether he would manage to reach his audience in Turkey:
"The Turkish government will do anything to block us, to stop us. But I was in jail and wasn't allowed to give interviews or publish articles then, and I still managed to. So if I managed to succeed in jail, I can do it now," he said confidently.