On her wedding day Dila Mihmar woke up at home in Duisburg, Germany, where she was born, where she went to school, and where she met her now husband, Selim.
At the wedding reception 700 guests awaited them. After the festivities, bride and groom boarded a plane for a honeymoon to Turkey - indefinitely. It was a journey the two dubbed "Project Istanbul."
"We'll be celebrating 10 hours, eating, dancing, drinking alcohol - and after all this we won't be resting," said the bride-to-be ahead of the big day. "We will be flying to Istanbul."
Dila and Selim are the first in their families to move "back" to the country Dila's father escaped from as a political refugee and Selim's grandfather was recruited from to work in Germany. As second- and third-generation children of Turkish immigrants, the newlyweds are embarking on an adventure that is becoming more common among their peers with Turkish heritage.
Culture shock
Since 2006, more people have been leaving Germany for Turkey than the other way around. In 2011, about 33,000 people left Germany for Turkey - 2,000 more than came to Germany from Turkey.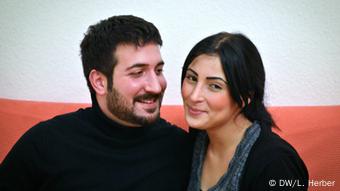 The young couple is committed to Project Istanbul
Cigdem Akkaya was one of the early self-proclaimed "returners" to Turkey - known as Rückkehrer in German. In 2006, she and two friends founded a group called Rückkehrer Stammtisch (Returner's Table), which meets in Istanbul once a month. Since the group's founding, membership has hit the roof.
"Back in 2006 we had our first meeting with 12 people, and now there are about 3,000 people on my distribution list," Akkaya said.
Akkaya credits the massive growth to the fact that second- and third-generation children of immigrants are now old enough to complete university degrees. Their parents and grandparents were recruited to Germany for their labor - but mobility comes with rising levels of education.
"Just like their German counterparts, Turkish students who have finished university are looking for the next experience abroad," Akkaya said.
Via monthly meetings, a Xing page and a lively facebook group, the Returner's Table gives German-Turkish newcomers a networking and integration platform. Many have never lived in Turkey prior to their move.
"In Germany they think they are Turks," Akkaya said. "But as soon as they get here, they notice that they're Germans. They have a German work ethic or a certain understanding of democracy. They're different from Turks here in every way."
Multi-directional mobility
The total number of people leaving Germany for Turkey has remained about the same since 1991. But what's changed, is that more educated people are leaving.
"In the media it's called the brain drain," said Yasar Aydin, who researches German-Turkish immigration at the German Institute for International and Security Affairs. "Of course it's a loss for the German society and the German economy, but in order to have a brain drain, the German economy must be harmed by this immigration process. That's not the case."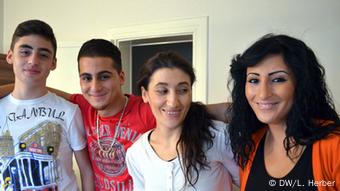 Dila Mihmar's family will be staying in Germany
In his recent book, published in German under the title "'Transnational' statt 'nicht integriert'" (Transnational rather than integrated), Aydin says that those who immigrate are not abandoning Germany, but rather they are interweaving their lives between the countries - a term he calls "transmigrating."
"People still understand migration as a one-way movement," Aydin said. "Today we have to understand migration as multi-directional and multi complex movement."
Akkaya agrees. She points to the headlines that proclaim Turks are turning their backs on Germany and says it simply isn't true: Those who leave Germany are building bridges.
"Most of them maintain their connections to Germany, especially for business reasons," she said. "We call it returning back, but it's never really a finished process."
Many own houses in Germany and continue to stay registered there. Many keep their German health insurance, and most end up working in a bilingual Turkish-German environment.
Feeling at home
So why did newlyweds Dila and Selim make the move?
"In Germany we always have the feeling that we are foreigners," Selim said. "But in Istanbul, we feel like we belong. In Istanbul we will be foreigners in the beginning because of our German accents, but in a few years we will fit in completely."

The couple also cites the same reason immigration researcher Aydin has found as the number one motivator: Turkey's economic boom. According to the Organization for Economic Cooperation and Development (OECD), Turkey is set to become one of the top 10 economies in the world, nearly tripling Germany's average growth rate.
Before the move, Dila worried about keeping in touch with her family and missing hollywood movies dubbed in German.
"I will also miss Brötchen," she said with a laugh, referring to the country's beloved bread rolls. "German Brötchen with cheese and lettuce. And German döner."
Five months later, Dila and Selim reported that aside from missing German cuisine, moving to Istanbul was one of the best decisions they've ever made.
"If Project Istanbul is a success," Dila said. "Then we will never come back."