Turkish Prime Minister Ahmet Davutoglu told reporters on Monday that his country was monitoring the situation across the border closely, as it continued to shell Kurdish strongholds in Syria for the third day running (pictured above).
"We will not allow Azaz to fall," Davutoglu told reporters, referring to a town about 5 miles (8 kilometers) away from the Turkish frontier. He issued a sharp warning against approaching Kurdish fighters, saying that Turkey would make the Menagh air base in Aleppo "unusable" if the YPG did not withdraw and also cautioned the Kurdish militia from moving west of the Euphrates River. Turkey has branded the YPG as a terrorist organization.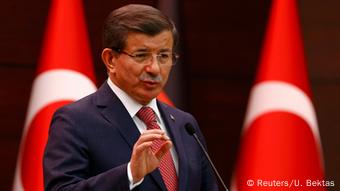 Davutoglu: a stern warning to the Kurds
Davutoglu also targeted Russia in his comments, shortly after alleged missile attacks by Moscow destroyed a school housing refugees in Azaz and a children's hospital in Idlib, killing at least 14 civilians. He accused Russia of acting as a "terrorist organization" in Syria and worsening the refugee crisis by its "barbaric attacks on civilians." Turkey's foreign ministry accused
Russia of carrying out an "obvious war crime."
Meanwhile, Syria's ambassador to Russia said US planes were responsible for the attack on the city. "Concerning the hospital which was destroyed, in actual fact, it was destroyed by the American Air Force. The Russian Air Force has nothing to do with it," Ambassador Riad Haddad told Rossiya 24 television.
Washington urges restraint
Meanwhile, US representatives urged Ankara and Moscow to tone down their responses. "It is important that the Russians and Turks speak directly and take measures to prevent escalation," a State Department official told AFP news agency on condition of anonymity.
German Chancellor Angela Merkel supported Turkey's call for a no-fly zone over parts of Syria, saying it would help alleviate the suffering of civilians caught in the crossfire. "In the current situation it would be helpful if there could be such an area where none of the parties are allowed to launch aerial attacks, that is to say, a kind of a no-fly zone," Merkel told the German daily, "Stuttgarter Zeitung."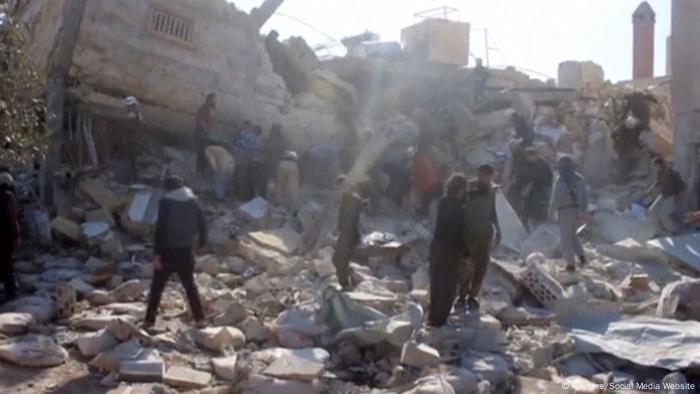 Several people died after a missile struck a hospital run by Doctors Without Borders (MSF) in Idlib
She also said it would not be possible to negotiate with "Islamic State" terrorists, but it would be helpful if the anti-Assad coalition and Syria's president could come to an agreement.
World leaders agreed last week to a cessation of hostilities in Syria, but the deal will come into effect only by the end of this week. None of the warring parties has signed the agreement, creating doubts about its effectiveness.
More than 260,000 people have died since the war began in Syria in 2011. Millions have fled their homes with over 2.7 million seeking refuge in neighboring Turkey. Hundreds of thousands have made their way to Europe, creating a massive refugee crisis.
mg/kms (AFP, Reuters)