Turkey detained dozens of suspected Islamic State (IS) militants Sunday, adding to the hundreds arrested in recent days in the run-up to New Year's Eve celebrations, which were shattered a year ago by a terror attack in Istanbul.
Shortly after the start of 2017 an IS gunman opened fire on New Year's revelers at the Reina nightclub on the Bosphorus, killing 39 people.
It was the culmination of a year of attacks by jihadists and Kurdish rebels, as well as a failed coup attempt. But there have been no major attacks in Turkey since the New Year's Day massacre and officials are determined to maintain the relative peace through the New Year.
Read more: US forces kill IS militant linked to attack
Security forces appear to be taking every possible precaution to ensure peace prevails throughout the New Year's celebrations.
Authorities arrested 20 IS suspects in a series of pre-dawn raids in Istanbul on Sunday. That included 15 foreigners who are thought to have spent time in Syria or Iraq, according to the Dogan news agency.
Five more — three Syrians, an Iraqi and a Russian Chechen — were taken into custody in Ankara, according to the state-run Anadolu news agency.
The latest arrests come on top of some 200 jihadist suspects picked-up by police in recent days, including 75 in Istanbul and Ankara, according to Turkish media reports.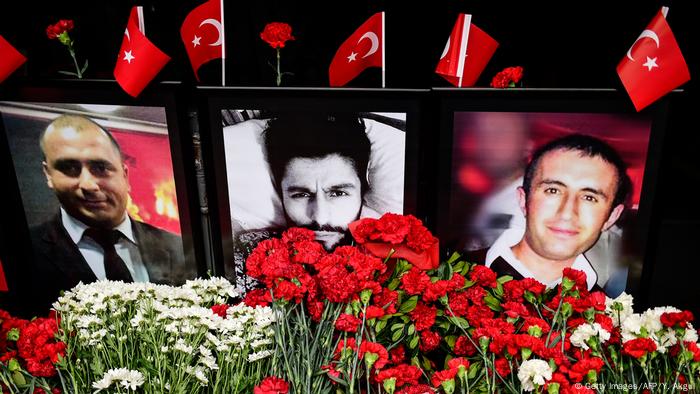 Flowers along with portraits of three of the victims of the Reina attack
Extraordinary security
The government is particularly wary of IS fighters who fled the Syrian city of Raqqa after it fell to a pro-Kurdish militia this year. Turkish officials fear those fighters have poured back into Turkey.
A staggering 37,000 police officers will be deployed in Istanbul on New Year's Eve – more than double the amount deployed last year, said Istanbul Governor Vasip Sahin.
In addition, 4,000 members of the gendarmerie and coastguard are also being put on duty.
Meanwhile, officials have either scrapped or blocked New Year's celebrations in some of the city's most popular areas for revelers, including Taksim Square, the buzzing area of Besiktas and upscale shopping district of Sisli.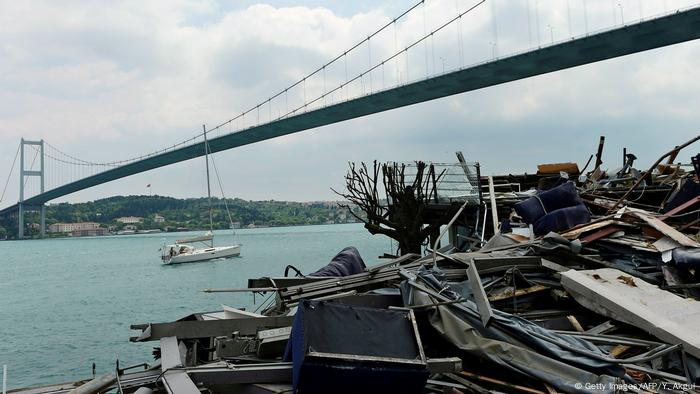 The Reina night club never reopened as officials ordered it to be demolished
Anadolu reports that police will also be disguised as lottery ticket vendors and chestnut sellers around Taksim Square to help ensure security.
Police frisked passengers on the city's ferries while large delivery trucks were banned from the city center through Monday.
"We are having very serious security measures to ensure that our citizens, God willing, see in the New Year in peace and security," Governor Sahin said.
Similar measures were being put in place in the capital Ankara where 9,700 police have been deployed and roads to the central Kizilay Square have been closed.
bik/rc (AFP, dpa)