German magazine "Spiegel" reported on Saturday that several governments in the EU had criticized the "striking number" of cases of hardship among the refugees coming to the EU under the recently implemented refugee agreement with Ankara.
The EU's Luxembourg representative reportedly said in an internal EU meeting in Brussels that there were "many serious medical cases or refugees with very low education" among the people sent from Turkey.
A German politician, Ole Schröder (CDU), who is parliamentary state secretary in the Interior Ministry, also reported similar cases to the Committee on Interior Affairs of the Bundestag, the magazine said.
Syrian academics unable to leave
According to information from Germany, the Netherlands and Luxembourg, Turkish authorities have repeatedly withdrawn permits which had already been granted, because the refugees had been found to be well-trained engineers, doctors or skilled workers, the report said.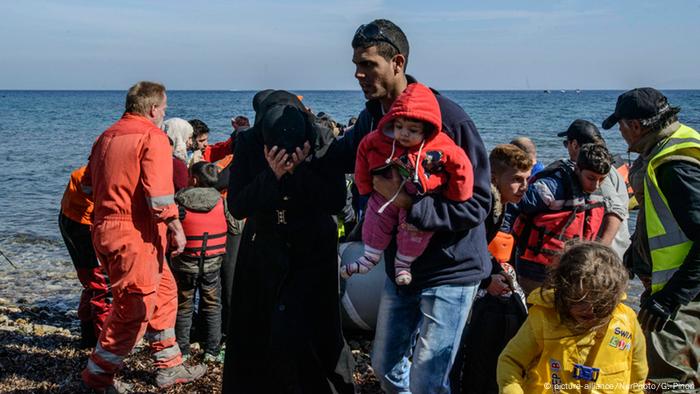 Dozens of migrants arrive every day on the Greek island of Lesbos
In the meantime, "Spiegel" said, Turkey has officially told the United Nations refugee agency UNHCR that Syrian academics are no longer permitted to leave Turkey under a 1:1 resettlement plan that formed part of a refugee agreement signed by the EU and Ankara in March. The report said that Turkey had claimed the right to choose which Syrians leave, although it is usually the UNHCR that decides who is eligible for a resettlement program.
Visa exemption dispute
Under the EU-Turkey deal, which was implemented in April, any migrant arriving in Europe via the Aegean Sea may be shipped back to Turkey.
In return for any Syrian refugee the EU sends back from Greece to Turkey, the EU will take in one Syrian refugee currently in Turkey, up to a limit of 72,000 people. The number of refugees arriving in the EU has decreased dramatically owing to the deal.
As part of the agreement, the EU has also agreed to speed up talks concerning Turkey's possible EU membership, as well as to introduce visa-free travel for Turkish citizens. If the latter went into force, Turkish citizens would be able to enter every single one of the 26 Schengen member states without first having to apply for a visa. Due to an ongoing dispute over the promised visa exemption, however, Ankara has repeatedly threatened to terminate the migration pact.