The disciplinary council of the Turkish Football Federation (TFF) on Tuesday banned Deniz Naki from all competitive matches for three years and six months — procedurally that equates to a lifetime ban in Turkey — for spreading "separatist and ideological propaganda." Naki was also fined 273,000 Turkish lira (roughly $72,000, €58,000).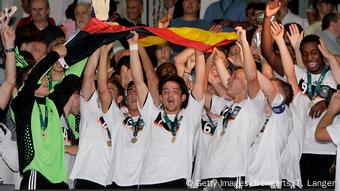 Deniz Naki is a Kurd who grew up in Germany, and who won the U-19 European Championships
The 28-year-old Kurdish-German midfielder is a prominent supporter of Turkey's Kurds. He had called called for people to take part in a major Kurdish protest in the German city of Cologne at the weekend. Protesters were rallying against Turkey's military offensive in the Kurdish Afrin region of northern Syria.
Turkish authorities have sought to stifle public dissent at its ground offensive against the Syrian Kurdish YPG militia. More than 300 people have been detained for posting critical comments on social media. Although Naki's criticism of President Recep Tayyip Erdogan's regime and his outspoken support for the Kurdish cause has been on Ankara's radar for rather longer than that.
A political footballer
Earlier in January, Naki said that his car had come under gunfire on Germany's A4 highway, suggesting a rogue Turkish nationalist group in Germany might have been behind the shooting.
Read more — Deniz Naki: A political footballer in fear of his life
Naki currently plays for Amed SK in Turkey's second division, a club based in the city of Diyarbakir in Turkey's Kurdish-majority southeast. However, he was looking to leave the team, citing concerns for his safety in Turkey. After January's shooting in Germany near the Dutch border, Naki was moved into protective custody.
Naki's lawyer Stephan Kuhn explained last week that his client did not intend to return to play in Turkey due to "security concerns," and that he would instead remain in Germany. The statement said that Naki had wanted to continue playing at Amed SK, but was "convinced by requests from his family and his close circle" to put his safety first.
Naki was also given an 18-month suspended sentence in Turkey last April for issuing "terrorist propaganda" in support of the Kurdistan Workers' Party (PKK), which is outlawed and classed as a terrorist organization by Turkey and the EU.
The midfielder grew up in Düren, near the German border to the Netherlands, and was part of the German team that won the 2008 under-19 European Championships. He has previously played in the Bundesliga and German second division with St. Pauli and Paderborn.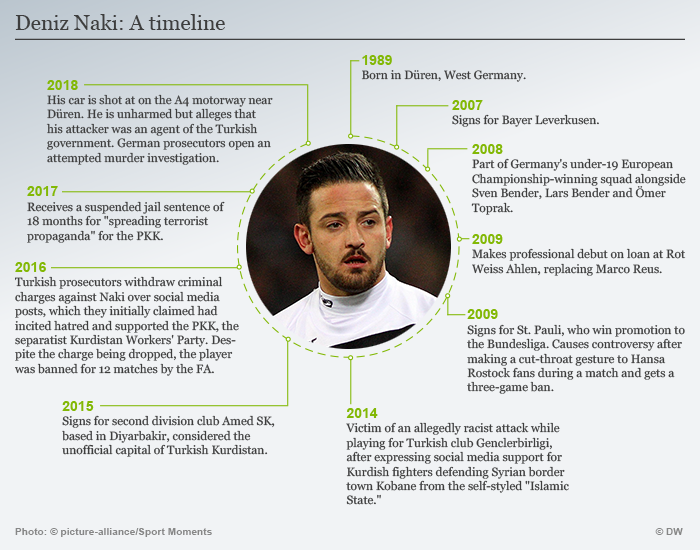 msh (dpa, Reuters)