Turkish authorities on Wednesday detained 1,009 people with suspected ties to US-based cleric Fethullah Gulen, in one of the largest recent operations against the network Ankara blames for last year's failed coup attempt.
Some 8,500 police were involved in operations in all of Turkey's 81 provinces, which prosecutors said targeted secret Gulenists within the police force.
Since last July's failed coup attempt, Turkey has arrested nearly 50,000 people, including 10,700 police officers and 7,400 military personnel, according to the interior ministry. Some 120,000 people have been fired or suspended from the military, police and bureaucracy for suspected ties to the Gulen movement.
Turkey accuses the Gulen movement of creating a "parallel state structure" over decades, infiltrating the military, police, judiciary, media and other institutions before attempting a coup. Gulen, a former ally of Turkish President Recep Tayyip Erdogan, denies the charges.
The scale of the purges within the military and police have raised concerns over the capability and rising politicization of security forces. The crackdown also drawn criticism over deteriorating human rights.
The arrests come 10 days after a referendum passed granting Erdogan expanded powers. The referendum was marked by allegations of widespread voter fraud.
German-born Kurdish politician detained, released
Separately, a parliamentarian with the pro-Kurdish HDP on Tuesday was detained by police before being released the same day, Turkish media reported.
Feleknas Uca was detained in Diyarbakir under a court order for failing to give a deposition in a court case against her. She was released after being brought to the court to make a statement.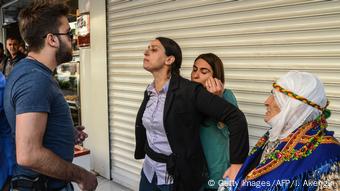 Feleknas Uca protects a woman from a plainclothes police officer during an October protest against the detention of Diyarbakir's co-mayors.
Uca faces up to 15 years in prison for "membership in a terrorist organization." The charges against her relate to various statements and attendance at rallies.
The German-born Uca is a former member of the European Parliament for the Party of Democratic Socialism, a predecessor of Germany's Left Party. She was the world's first Yazidi member of parliament.
More than a dozen Kurdish parliamentarians are currently in prison on allegations of ties to the Kurdistan Workers' Party (PKK).
cw/jm (AP, Reuters)