The defendant, Sanel M., who has been charged with bodily harm resulting in the death of student Tugce Albayrak, told the court on Friday that he had never intended to cause the woman serious harm.
Sanel said that on the night in question he slapped Tugce and that "she then fell."
Sanel M. said he had no intention of killing the female student
Tugce sustained serious head injuries on hitting the asphalt in a fast food restaurant car park and slipped into a coma. After she was pronounced clinically brain-dead, her family allowed her life support to be switched off on her 23rd birthday, several days after the attack. The Turkish-German student had stepped in to try to stop a group of young men from harassing two younger girls.
"I am infinitely sorry for what I have done," Sanel M. told the juvenile court on the first day of his trial. "I never reckoned with her death. I cannot begin to imagine the extent of the sorrow and suffering I have caused her family."
Now 18, Sanel was 17 years old at the time of the crime.
Brother describes family's suffering
Tugce's death prompted national outrage and an intensified debate over civil courage, a common term used in Germany for bystanders stepping in to try to help others, usually strangers. Tugce is thought to have first intervened in the restaurant's women's room, asking the young men to leave the girls alone. Later, at around 4 a.m., she again encountered the youths outside in the car park. Both the girls were expected to testify publicly Friday afternoon at the court in Darmstadt.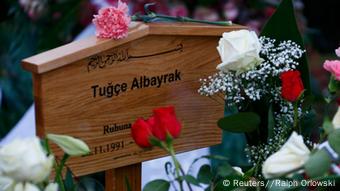 Around 1,500 people attended Tugce's December funeral
Tugce's 25-year-old brother, Dogus Albayrak, described the family's suffering to the court, "It is still a very bitter time for us, the pain is still as real as before." He said that he had taken a sabbatical semester from his university studies, and that his parents were still unable to work. He described his deceased sister as a "fun-loving person," who was "very happy to help."
"Her sense of justice was very strong," Dogus said.
Tugce's father was initially scheduled to testify on Friday, but withdrew saying he could not face it.
Sanel M. also described his personal background on the opening day in court. He qualified for a top-tier secondary school - a "Gymnasium," which is similar to a "grammar school" in the UK. But soon after joining he left this school, and said that he subsequently was often truant, even being expelled from one school. He eventually gained the lowest-level high school graduation certificate, but had not found a job. Sanel has been in investigative custody since his arrest.
msh/sms (AFP, dpa)
Editor's note: Deutsche Welle follows the German press code, which stresses the importance of protecting the privacy of suspected criminals or victims and urges us to refrain from revealing full names in such cases.