The European Commission's President Jean-Claude Juncker targeted Greek Prime Minister Alexis Tsipras with his criticism, saying the leader wasn't giving his citizens correct information about the EU's proposals.
"I don't care about the Greek government…I do care about the Greek people, mainly the poorest part," Juncker said at a news briefing in Brussels.
"The debate in Greece and outside Greece would be easier if the Greek government would tell exactly what the commission is really proposing," the commission chief added, referring to lenders' proposals which would pave the way for Athens to receive its 7.2 billion euro (8.1 billion dollars) installment - the last of the 240-billion-euro economic recovery package to the country.
Juncker spoke about Greece in a news briefing with NATO chief Jens Stoltenberg
Greece's creditors, which include the European Central Bank (ECB) and the International Monetary Fund (IMF) proposed a 10 percentage point increase in value added tax (VAT) on electricity. However, Juncker said he himself opposed the proposal: "I'm not in favor, and the prime minister knows that, I'm not in favor of increasing VAT on medicaments or electricity."
He said the commission had instead proposed a 35-billion-euro program to support investments in Greece and floated the idea of a "modest cut in the Greek defense budget," which constitutes two percent of the country's gross domestic product.
Athens needs to make 'a serious move'
Greece has to pay 1.6 billion euros to the IMF by the end of this month, which is also when the deadline for the country's European bailout expires.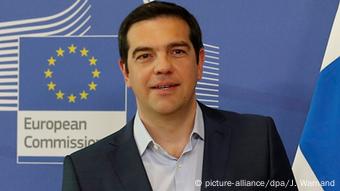 Tsipras misleading his voters?
Alexis Tsipras is desperately struggling to avoid a debt default in two weeks that could force it to exit the eurozone. The Greek premier had earlier communicated to his allies in Athens that the EU and the IMF were proposing tax hikes to "humiliate not only the Greek government…but humiliate an entire people."
His comments came shortly before a eurozone ministers meeting on Athens' debt deal, prompting the United States to press for an agreement before the crisis became even more severe. Washington's Treasury Secretary Jacob Lew told Tsipras over a phone call that his country needed to make "a serious move to reach a pragmatic compromise with its creditors."
Failing to agree "would create immediate hardship for Greece and broad uncertainties for Europe and the global economy," Lew said.
mg/bw (dpa, Reuters)