US President Donald Trump threatened to slap "large sanctions" on its NATO ally Turkey on Thursday if the government refused to free a detained Christian pastor.
Andrew Brunson, who had been detained by Turkey in October 2016 on terror-related charges, was transferred from prison to house arrest on Wednesday, but Trump took to Twitter to demand that the pastor be freed, writing that, "This innocent man of faith should be released immediately!"
Trump's threat raised hackles in Ankara, with the government of President Recep Tayyip Erdogan shooting back at Trump that it would "never tolerate threats."
Melvut Cavusoglu, Turkey's foreign minister, tweeted that, "No one dictates [to] Turkey."
A spokesperson for Erdogan, Ibrahim Kalim, added that the US "must understand that it cannot reach desired results by threatening Turkey over an issue which falls within the jurisdiction of our country's independent judiciary."
Trump had previously criticized the pastor's detention, but Thursday's volley of threats escalated the situation. It is the latest spat between the US and Turkey that risk worsening already deteriorating ties between the two military allies.
The US uses bases in Turkey for its military operations across the Middle East, but the two countries have sparred over numerous issues, including Washington's support for Kurdish fighters in Syria, whom Ankara sees as a threat to its political stability.
Read more: Turkey strikes back at higher US tariffs
Multiple warnings from Trump officials
The Turkish foreign minister and US Secretary of State Mike Pompeo had spoken by phone earlier in the day about the matter, Turkish state media reported.
In an overture to Trump's demand, Pompeo had tweeted on Wednesday that moving Brunson to house arrest was "not enough" and that there was no "credible evidence" backing the terror charges against the pastor.
US Vice President Mike Pence also had issued strong words of warning for Turkey prior to Trump's tweet. At a conference on religious freedom in Washington, he said, "Brunson is an innocent man, there is no credible evidence against him."
"Release Pastor Andrew Brunson now or be prepared to face the consequences," Pence added.
The 50-year-old Brunson ran a Protestant church in the Aegean city of Izmir. He was detained on accusations of having carried out activities on behalf of two groups that the Erdogan government considers terrorist organizations.
One is related to Fethullah Gulen, a US-based Muslim preacher that Erdogan has said was behind a failed coup against him in 2016. The other is the Kurdistan Workers Party (PKK), a leftist militia that opposes the Erdogan government.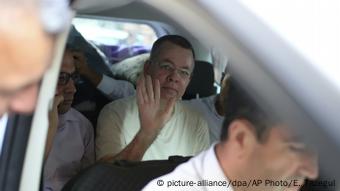 Brunson, a native of the US state of North Carolina, has lived in Turkey for 20 years
NATO and the US also have classified the PKK a terrorist organization.
Brunson has denied the charges. If convicted, he could face up to 35 years in prison. His next hearing is set for October 12.
Following the failed coup, Erdogan has consolidated his political power and cracked down on political dissents, detaining thousands of individuals on similar terror-related charges.
Turkey recently passed a law that strengthens public officials' ability to detain suspects.
The United States under Trump, meanwhile, has made protecting Christians abroad a pillar of its foreign policy.
cmb/bw (dpa, AFP, AP)
Each evening at 1830 UTC, DW's editors send out a selection of the day's hard news and quality feature journalism. You can sign up to receive it directly here.