Jared Kushner, son-in-law and senior adviser to US President Donald Trump, will be denied access to highly classified intelligence reports in the White House, the politics news site Politico reported on Tuesday, citing two US officials.
Kushner had his security clearance downgraded from top secret/SCI (sensitive compartmented information) level to the secret level, the officials said.
The decision means the 37-year-old no longer has access to the most valued US intelligence report, the President's daily brief, which includes highly classified intelligence analysis, information about CIA covert operations, and reports from the most sensitive US sources or those shared by allied intelligence agencies.
Read more: Russia's Vladimir Putin thanks Donald Trump for helping foil terror attack
Several aides affected
The downgrade was confirmed in a memo to several White House aides — including Kushner — who had obtained interim security clearances, but still had unfettered access to sensitive information, despite not being given permanent approval.
Several commentators described how the downgrade weakens Kushner's credibility within the Trump administration, and in efforts to negotiate Middle East peace between the Israelis and the Palestinians. The decision comes just days before Israeli Prime Minister Benjamin Netanyahu is due at the White House.
Read more: US brings forward new Jerusalem embassy opening to mid-May
The New York Times reported that Trump's son-in-law would also likely have his portfolio reduced, particularly related to his foreign affairs role.
Hours after the demotion became public, The Washington Post reported that officials from four other countries had talked privately about how they could control Kushner. Citing current and former US officials, the paper said foreign officials from Israel, Mexico, China and the United Arab Emirates singled out Kushner's financial difficulties, business arrangements and lack of foreign policy experience as possible buttons to push.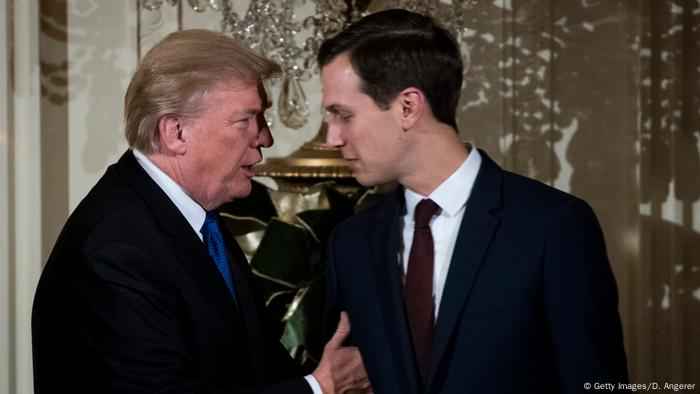 Kushner played a key role in the campaign to get Donald Trump elected and has since become a powerbroker in the White House
The White House has been grappling with the security clearance issue since it emerged this month that staff secretary Rob Porter worked for Trump for a year with a temporary clearance despite accusations by his two former wives of domestic abuse. Porter has maintained his innocence.
Deadline last week
White House Chief of Staff John Kelly ordered that Trump administration officials awaiting permanent clearance should lose their access to the nation's top secrets if they hadn't received them by last Friday.
White House spokeswoman Sarah Sanders repeatedly declined to comment on the move during a briefing on Tuesday, saying only that Kushner would "continue to do the important work that he's been doing since he started in the administration."
Kushner's attorney, Abbe D. Lowell, told The Associated Press that Kushner's ability to do his job won't be affected by any change to his clearance.
"My inquiries ... have confirmed that there are a dozen or more people at Mr. Kushner's level whose process is delayed, that it is not uncommon for this process to take this long in a new administration, that the current backlogs are being addressed, and no concerns were raised about Mr. Kushner's application," Lowell said.
Read more: New charges filed against former Trump campaign aides Manafort and Gates
Security backlog
US media reported that the FBI has a backlog of investigations into Trump aides seeking security clearance, and the process should be completed within a month.
It remains unclear if and when Kushner's access to the President's daily brief, which requires not only a top secret clearance, but also access to even more closely guarded intelligence, would be reinstated.
mm/se (AP, dpa, Reuters)