On Thursday, a court began to hear the case of 51-year-old Ralf S., who is accused of attempted murder in the July 2000 bombing of a train station in Düsseldorf, which prosecutors say targeted mainly Jewish people and Russian-Germans.
Prosecutors had dropped a previous case against the defendant, but reopened their investigation after he reportedly bragged, while awaiting trial for another crime years afterward, that he had carried out the attack.
Read more: German man arrested 17 years after Düsseldorf train station bombing
What happened, when?
- The explosive device, which contained about 200 grams (7 ounces) of TNT, was hung inside a plastic bag on a fence at Düsseldorf's Wehrhahn train station and left 10 language school students from the former Soviet Union badly injured.
- One pregnant woman who came from Ukraine lost her baby and a foot as result of the afternoon pipe bomb attack.
- Police launched a major investigation and followed up hundreds of clues — with more than 900 tips from the public and testimony from more than 1,000 people — but were unable to prosecute any individual successfully.
- Officers questioned current suspect Ralf S. for several hours in the wake of the bombing and placed him under surveillance, but they were unable to press ahead because of insufficient evidence.
- In June 2014 a prison inmate told police that the suspect — who was briefly in custody over an unrelated offense — had boasted about carrying out the attack, using a racial slur against immigrants.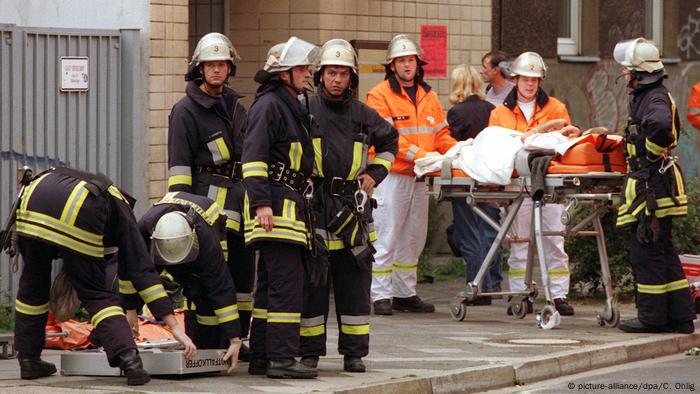 Metal fragments were unleashed from the bomb, which left 10 people injured
A 'happy event' in suspect's life
After the investigation began again, investigators listened in on the defendant's telephone conversations. They heard that, after the birth of his three children, Ralf S. considered the "Wehrhahn thing" to be the "fourth happy event" of his life.
The lawyer acting for Ralf S., Olaf Heuvens, says his client vehemently denies the renewed accusation. "The client denies having anything to do with the attack. He absolutely denies having the technical abilities to prepare for the attack, and he denies having had the opportunity to get hold of the ingredients to build that bomb."
"Why should my client tell an inmate he barely knew something like that?" Heuvens told the news agency dpa.
Why is this significant? The bombing came as a number of attacks against foreigners had raised concern in Germany, and the failure of the justice system to solve the Düsseldorf case fed into calls for thefar-right NPD party — which was represented in a number of German state parliaments — to be banned. Questions have since been raised about about the initial investigation — especially in the light of the National Socialist Underground (NSU) murders , which showed that police and intelligence agencies avoided pursuing the lines of inquiry that led to Germany's far-right scene.
Read more: A guide to Germany's far-right groups
Who is Ralf S.? The defendant is a former soldier who traded in army goods and military memorabilia. Many of those who knew Ralf S. at the time of the attack said they believed he was capable of carrying it out. However, police were unable to establish further proof in their line of investigation.
Why were victims targeted? As well as the suspect having neo-Nazi affiliations, investigators believe he may have had got into a feud with East Europeans living in the neighborhood. He had apparently attempted to intimidate the school students without success, and had felt humiliated by his failed efforts.
What is the evidence? Ralf S. was said to have rented an apartment where he allegedly constructed the bomb and a remote detonator. The suspect was said to have boasted "I'm a tough nut" to a female friend after he was questioned. According to a report in the Kölner Stadtanzeiger newspaper, he had called another well-known neo-Nazi in the area, Sven Skoda, to request the latter supply him with an alibi.
rc/rt (dpa, AFP)