The new research subsidiary will be named Toyota Research Institute (TRI) and will begin operating in January 2016, Toyota President Akio Toyoda told reporters Friday in Tokyo.
Initially the company will have 200 employees, who will work at a facility in Silicon Valley near Stanford University. There will also be a second facility near the Massachusetts Institute of Technology (MIT) in Cambridge, near Boston.
The $1 billion (919.6 million euros) investment, which will be spread over five years, comes on top of $50 million Toyota announced earlier it would spend on artificial intelligence research at Stanford and MIT.
'Car of the future'
Key players in the international car industry have been vying to develop autonomous driving technologies that rely heavily on advances in artificial intelligence and robotics.
Google has been testing self-driving cars in Silicon Valley, as have US-based Tesla and General Motors. Ford, Mercedes-Benz, Volkswagen and Nissan have also set up engineering centers near Google's headquarters in the region to the southeast of San Francisco known as Silicon Valley, to develop autonomous driving technologies.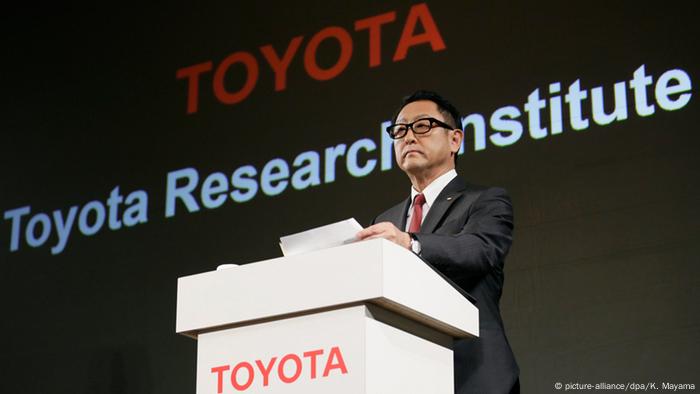 To drive home the message that his vision was about more than just cars, Toyoda appeared at a Tokyo hotel with high-profile robotics expert Gill Pratt, who will head the new organization.
A vision shared
Pratt was formerly a program manager at the US military's Defense Advanced Research Projects Agency and joined Toyota as a technical adviser when it set up its artificial intelligence (AI) research effort at Stanford and MIT.
Toyota, whose bottom line has been hit recently by massive recalls and the 2011 tsunami in northeastern Japan, now has the cash to invest in the future.
Akio Toyoda, ranked by Forbes in this year's "powerful people" list as the most powerful Japanese person, said he looks forward to working with Pratt because they shared a vision.
"The goal is to do away with the tragedy of car accidents," he told reporters.
tko/cjc (AFP, dpa, AP)