Veteran conservative politician Heiner Geissler, who is leading the mediation talks on the controversial rail project Stuttgart 21, said the first round was a good start for "an experiment in democracy," calling the discussions fair and to the point.
"I didn't get the impression that either party was just trying to score points," he said after six and a half hours of talks.
It was the first time that mediation talks of this nature have been shown live on television and on the Internet. Geissler said the debate was very technical, but that both parties had made an effort to avoid too much jargon.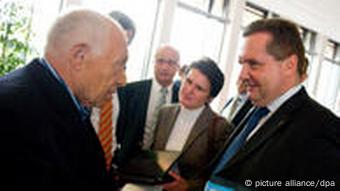 Mediators hope the talks will help clarify the project's pros and cons
Stefan Mappus, the premier of the southern state of Baden-Wuerttemberg, where Stuttgart is located, said it was a "good day for democracy" and that the talks were aimed at easing fears among the local population about the perceived disadvantages of a planned new underground train station.
Controversial project
The project, which has been the subject of protracted, sometimes violent protests, involves demolishing most of Stuttgart's old train station and replacing it with a new underground facility, with the addition of a new line creating a fast connection to the nearby city of Ulm.
Deutsche Bahn board member Volker Kefer argued that the state needs a modern rail hub to be able to compete with airlines and that Stuttgart 21 was the right way to do it.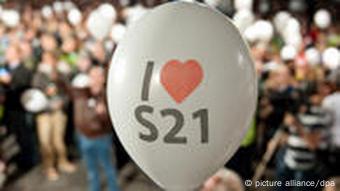 Supporters say a modern underground station is an economic necessity
But opponents insist that modernizing the existing station is the better option.
"We think your project is a step backwards, not forwards," the mayor of nearby Tuebingen, Boris Palmer told Kefer on Friday. Palmer also called on Mappus to clear the way for a referendum on the project.
While Deutsche Bahn argues that the new underground station will boost passenger numbers by two million, critics say the figures do not add up and costs are likely to escalate.
The mediation talks are to continue every Friday until Dec. 3. More demonstrations are planned for Saturday, when up to 40,000 people are expected in Stuttgart to demonstrate both for and against the project.
Author: Nicole Goebel (dpa, dapd, epd)
Editor: Chuck Penfold