Take a look at the mid-winter table and you'll see an astonishing number of teams all bunched together in no man's land on roughly the same number of points. Rarely, if ever, have Bundesliga squads been so prone to drawing matches, which suggests there may have been a sea change in German football.
In the old days, German sides were known for their ability to hold leads. These days, as Bundesliga offenses get more and more potent, even a three-goal advantage isn't necessarily secure.
So we - Jefferson Chase, Ben Knight, Nick Amies and Matt Hermann - have started our annual Hall of Shame list with the players most responsible for making every round an unpredictable compilation of thrill and spills that tend to cancel each other out in the end.
Dismal defense
It's hard to imagine that, not long ago, Wolfsburg won a Bundesliga title with Diego Benaglio between the posts. The Swiss keeper sure has come down in the world since then, even getting benched at one point this season. As Nick puts it, he looks "like someone with attention deficit disorder trying to catch a beach ball in a strong wind." The result: Wolfsburg have the league's second-poorest defense.
And Benaglio isn't the only one in the Wolves' defense having a hard time of it. Marcel Schäfer was once a German national. Now he's have a tough time making it into Fiji's squad. "The divergence between potential and reality seems so particularly acute here," analyzes Ben. "He's a man having a tragically hapless season."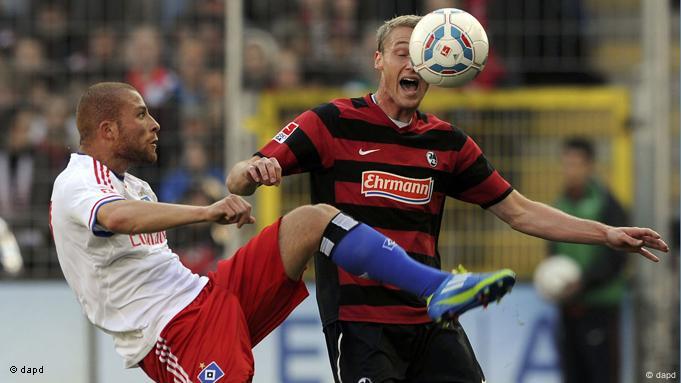 Felix Bastians (right) has reason to keep incognito
Another consensus choice for flop was Freiburg's Felix Bastians. Not much has been going right for the small Southern German club this campaign, but Bastians seems to be going particularly wrong. His conversion from winger to defender has been a disaster, which is a major reason why Freiburg have the worst defense in the league and spend the winter in dead last.
And to be fair, we also have to point an accusatory finger at the captain of that defense, Pavel Krmas. He and Bastians are the lowest ranking pair of defenders in the league according to the marks handed out by Kicker magazine, and Ben concludes "they seem to be a potent force for terrible defending."
Another experiment gone wrong is Michael Mancienne. The once-England hopeful was brought in from Chelsea to usher a new era in Hamburg, but his stumbling, bumbling performances were pure slapstick. "He seems to be afraid to even try out the basics these days, such as tackling," notes Nick. Not coincidently, Hamburg's back four markedly improved when he tried out a new position - on the bench.
Muddled midfield
In a Deutsche Welle first, we're nominating two players - Aleksandr Hleb and Thomas Hitzlsperger - for one position. That's because neither of these two former standouts was healthy enough to make any sort of an impact whatsoever for the Wolves. Hitzlsperger may get another chance, while Hleb is being sent back to Barcelona, from whence he was out on loan.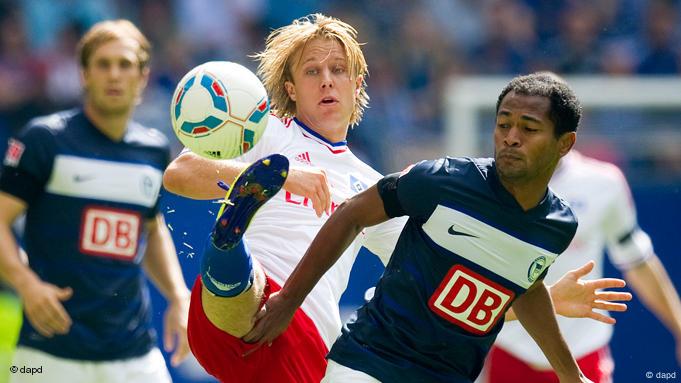 Hamburg's Per Skjelbred (left) has gotten lost in the crowd
Hamburg's Per Skjelbred has made an even less auspicious Bundesliga debut than his teammate Mancienne. The Norwegian was so poor in his first four starts that he's only been given around three minutes of playing time since. "He was bought as a utility midfielder, apparently equally comfortable playing right, left or center," Nick says. "After failing to convince in any of these positions, the alternatives are few."
No one was expecting Ilkay Gündogan to replace departed MVP Nuri Sahin at Dortmund. But he hasn't even been able to replace Florian Kringe. After some desultory performances earlier on, the gifted midfielder fell below oldie Sebastian Kehl and 19-year-old Moritz Leitner on the depth chart, and only a rash of injuries has kept him in Jürgen Klopp's squad.
Attack, what attack?
Alexander Esswein is nominally Nuremberg's starting center forward. The question is: why? The 21-year-old has featured in 16 matches, the vast majority from the start, and has but one goal to show for it. All strikers go through fallow periods, but seldom has a young man been allowed to stay on the pitch for so long without producing any evidence that he's up to the job. "Chimpanzees and typewriters spring to mind," says Ben.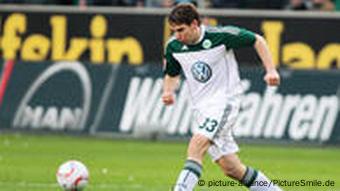 Helmes no longer spends much time on the pitch
There's an old adage in football: being sold to Hoffenheim is a clear sign that you need to buck up your ideas, son. Actually it's not an adage, but Nick's advice to Ryan Babel. For one brief month, from round three through round six, the Dutchman finally looked as though he would start fulfilling the promise that led Hoffenheim to bring him in last winter. Then he reverted to his usual form, described by Nick as "pouting a bit, running about sporadically, and scoring the odd goal when he was in the mood, but generally looking disinterested and unmotivated."
And speaking of brief passages of brilliance, or at least effort, Patrick Helmes got off to a good start this season, scoring twice in Wolfsburg's opener. Since then it's been all downhill, and boy do we ever mean downhill. The former Germany striker soon ran afoul of coach Felix Magath and was fined 10,000 euros ($13,080) for lack of hustle. He hasn't played a minute since round eight and was banished to the stands for Wolfsburg's final matches in 2011.
The reason? Matt tells the following anecdote: "I ran into him at an ice cream parlor in Cologne about two weeks before the season started. He cleaned his plate and looked anything but focused on the task at hand in Wolfsburg. Looks like he never really did get it together."
So there you go: a banana boat of inefficiency with healthy scoops of disinterest and a sprinkling of simple incompetence. Bon appetit, guys, and see you in January.
Author: Jefferson Chase, with lots of help from Nick Amies, Matt Hermann and Ben Knight
Editor: Martin Kuebler