A late burst of speed carried Sydney McLaughlin to Olympic gold in the 400-meter hurdles, with the American smashing her own world record and edging out compatriot and 2016 champion Dalilah Muhammad in the process.
"What a great race," said McLaughlin after recording a time of 51.46 seconds under a strong Japanese sun. "I'm just grateful to be out here celebrating that extraordinary race and representing my country.
"I saw Dalilah ahead of me with one to go. I just thought, 'run your race'. The race doesn't really start till hurdle seven. I just wanted to go out there and give it everything I had."
The 21-year-old McLaughlin's blistering time bettered her world record set at the US trials in Oregon in June, when she ran 51.90 seconds.
Muhammad, 31, also beat the previous world record, with bronze medallist Femke Bol of the Netherlands just outside the 52-second mark.
The run came a day after Karsten Warholm, of Norway smashed the men's world record.
Gold medals
Canada's Andre De Grasse won the men's 200 meters gold medal in Tokyo on Wednesday with a scorching time of 19.62 seconds, a Canadian national record. Americans Kenneth Bednarek and Noah Lyles took the silver and bronze medals.
De Grasse, who claimed the 100-meter bronze and 200 meter silver at the 2016 Olympics and 2019 World Championships, came into the turn third but surged past his rivals in the last 40 meters to claim victory. It was De Grasse's second medal in Tokyo, having taken bronze in the 100 meters.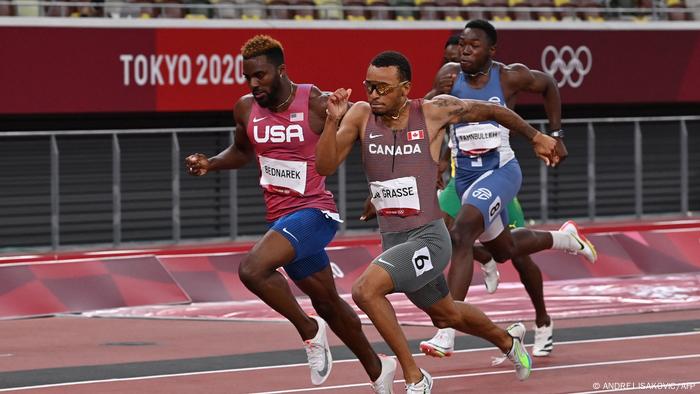 Andre De Grasse pulled away from his opponents late in the 200m
Kenya's Emmanuel Korir won the Olympic men's 800 meters gold medal on Wednesday, extending the East African nation's dominance of an event they have now won four times in a row.
His compatriot Ferguson Rotich took silver and Patryk Dobek of Poland claimed the bronze.
Britain's Ben Maher on his horse Explosion won individual show jumping gold at the Olympics on Wednesday in a hair-raising jump-off with three Swedes in the top five.
Sweden's Peder Fredricson on All In retained his individual silver medal, and the Netherland's Maikel van der Vleuten on Beauville Z won bronze in an all-male podium for
Georgian strong man Lasha Talakhadze broke his own world record to retain the title in the men's heaviest weight class with a combined lift of 488 kilograms.
Talakhadze, who won a gold at the 2016 Rio Games in the same category, lifted 223 kg for the snatch and 265 kg for the clean and jerk to also break his own world records in the two categories.
His total was 47 kilos more than Iran's Ali Davoudi, who took silver in the men's +109 kg class. Syria's Man Asaad took the bronze with 424 kg.
Filippo Ganna inspired Italy to a long-awaited gold medal in the men's team pursuit as they produced an electrifying finish to stun favourites Denmark in a see-sawing final at the Izu Velodrome on Wednesday.
The Azzurri trailed in the closing stages of the 16-lap duel but lead engine Ganna turned up the power and they blasted across the line in a world record 3:42.032, with the Danes an agonising 0.166 slower.
A memorable home Games for Japan continued in the women's park skateboarding final as Sakura Yosozumi, 19, held off teammate Kokona Hiraki, 12, with only Britain's 13-year-old Sky Brown preventing a Japanese clean sweep.
An exceptional first round of 60.09 from Yosozumi put her in the lead early — and as the temperature rose, it became harder for the athletes to threaten it. Brown and Sakura both laid down brilliant runs, Brown in the last effort of the competition, to take second and third — but either was denied the chance to become the youngest-ever gold medalist.
In sailing, there were golds for Great Britain and Australia, both major forces in the sport. Mathew Belcher and Will Ryan dominated the 470 men's category for the Aussies while Hannah Mills and Elidh McIntyre did the business in the women's 470 for Team GB.
Germany update
German wrestler Frank Stäbler fulfilled a lifelong dream on Wednesday, finally winning an Olympic medal. The three-time world champion beat Georgia's Ramaz Zoidze 5-4 to win bronze in the Greco-Roman weight class up to 67 kilograms. This was the first Olympic medal of his impressive career.
"The dream has come true. I earned it with the very last bit of energy in me," the 32-year-old said shortly afterwards. "For me, this bronze medal is like a gold medal."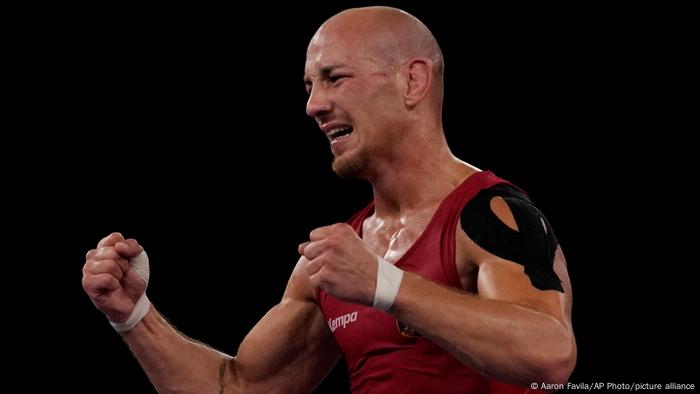 Frank Stäbler won his first Olympic medal in his last-ever wrestling match
Iran's Mohammadreza Geraei beat Ukraine's Parviz Nasibov 9-1 to
win gold.
Stäbler's teammate Denis Kudla, 26, defeated Egypt's Mohamed Metwally by shoulder pin to win bronze in the weight class up to 87 kilograms – the second Olympic bronze of his career.
Leonie Beck just missed out on a medal in the open water race. The 24-year-old from Würzburg finished fifth after 10 kilometers in the Odaiba Marine Park in Tokyo Bay.
Beck was just 2.6 seconds short of bronze. "It went better than I thought. I tried everything, risked everything," said Beck, who had taken the lead after 7.5 kilometers. "Maybe I should have pulled up a straight later ... but fifth place at the Olympics is very, very good. I can be proud of it."
Gold went to double world champion Ana Marcela Cunha of Brazil ahead of Rio Olympic champion Sharon van Rouwendaal of the Netherlands and Kareena Lee of Australia.
mp, pfd (DPA, Reuters, AP)