Season kick-starter
The season may have started a month ago - but Borussia Dortmund look to still be in holiday mode. The resilience shown in the 2-2 draw at home to Stuttgart will be encouraging, but it's still a bitter pill to swallow for Jürgen Klopp, as his side watch Bayern Munich already begin to pull away at the top of the table.
While injuries and disruptions have marred Dortmund's preparations for almost every match, a host of players are still unconvincing and the individual mistakes are beginning to pile up, even this early in the campaign.
Players like Marcel Schmelzer and Neven Subotic are experienced professionals, yet have shown a real tendency to lose focus at the back this season. Dortmund's play thus far has lacked cohesion: ranging from aggressive attacking, to porous defending.
Schmelzer switched off at the second goal against Stuttgart, but the problems existed in previous matches, too, including the 2-0 loss at Mainz at the weekend. In spite of his tender years, Matthias Ginter is still capable of doing much better in central defense, while finding the right duo in the heart of midfield is akin to finding a box of treasure when neither Nuri Sahin or Ilkay Gundogan are available.
Add to that, Henrikh Mkhitaryan and Marco Reus are on the treatment table. This Saturday, and the forthcoming Ruhr derby, offers the ideal opportunity for Dortmund to get their championship-challenge into first gear.
Is Hecking under pressure?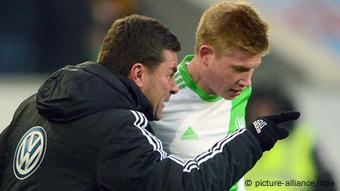 Wolfsburg's results falling short of big expectations.
Who will be the next coach to be axed in the Bundesliga? Wolfsburg lie 12th in the table and have come off a trouncing at the hands of Everton in the Europa League. The Wolves have an envious luxury of riches at their disposal - but so far haven't looked up to standard in the first five games of the season.
Kevin de Bruyne, the outstanding Belgian midfielder, looks uncomfortable on the left flank; the decision bemusing in its own right considering his natural position has always been on the right-hand side. Even with veteran Ivica Olic, the lack of a high-quality centre forward was a galling judgment error on the part of sporting director Klaus Allofs. Nicklas Bendtner simply won't fill that void.
Hecking has always been a defensively-sound coach, but a pragmatic one, too. Wolfsburg have a handful of excellent central defenders: Robin Knoche, Naldo and the returning Timm Klose, for instance. But finding the blend further forward and in the middle of the pitch looks to be a step too far for the former Nuremburg coach.
If "Plan A" doesn't work for Wolfsburg, the chances are that the current head coach doesn't have many other options up his sleeve. The quality is there in abundance,but Wolfsburg's fairly disappointing performances can't continue, if they envisage a spell in next season's Champions League.
Keeping focus at Hamburg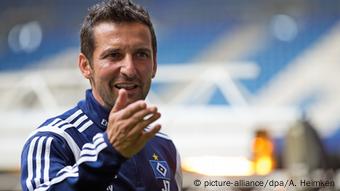 Zinnbauer has, at least, made steps in the right direction.
Josef Zinnbauer's appointment as Hamburg head coach - promoted from the club's U23 side - came from nowhere last week. His passion and positive energy, by all accounts, seemed to have a galvanizing effect on Hamburg's players who fought tooth-and-nail to ground out a 0-0 draw at home to Bayern Munich.
The fact, that Hamburg kept a clean sheet alone against Bayern is an outstanding achievement in itself. Zinnbauer's time on the training field was limited - but Hamburg played within a solid, two-line structure and with an extra gear to ask questions at the other end of the pitch.
Now, it seems that goals are a problem. Hamburg are barely creating opportunities, never mind scoring them at this stage. Five games without hitting the back of the net is a record - leveling the worst-ever stint in German professional football at Bochum in 1979/80.
But, still without a victory, the signs are encouraging. The chaos of the previous reign under Mirko Slomka has been almost eradicated with Zinnbauer giving off good vibes on the touchline and when around his players.
Lewis Holtby has adapted well in Hamburg, covering over 12.9 kilometers against Bayern Munich last week, while the likes of Matthias Ostrzolek and Tolgay Arslan offer Hamburg some long-term optimism, if Zinnbauer can generate momentum on the pitch.
They might not venture out of the bottom-half, but that would be huge progress for a club recovering from the wounds left from previous tenures.