Spain's Sailing Federation complained Saturday that there was a lack of security in Rio, just three months ahead of the Olympic Games which open in early August.
The trainer of Spain's Nacra 17 catamaran class sailors, Santi Lopez-Vazquez, said he and two other team members were confronted by "five youths with two pistols" while they walked to breakfast in Rio's picturesque Santa Teresa district.
"They took all the work equipment we were carrying at that time," Lopez-Vazquez said. "It was a very unpleasant experience."
Rio's tourism police said the items stolen included a bag with money, documents and a camera. The Spanish team said the robbery occurred in the early hours of Saturday, while police said it happened on Friday.
Crime prevalent
Away from popular tourist areas, Rio's large, poorer neighborhoods known as favelas are often the scene of shootouts between drug gangs and heavily armed police.
Muggings and crimes involving firearms also occur often in wealthier suburbs in the south of Rio de Janeiro.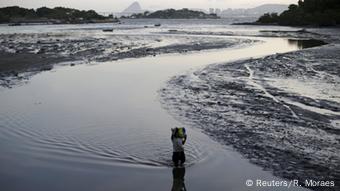 A channel leading into Guanabara Bay, Rio de Janeiro
Sailing crews preparing for the Olympics have already expressed concern about pollution and floating garbage in Guanabara Bay, where they will race.
Recession and scandals
Brazil is mired in the deepest recession since the 1930s and a series of scandals, including the suspension of President Dilma Rousseff ahead of an impeachment trial.
There are also ongoing concerns over the spread of the Zika virus. The outbreak began in early 2015, before spreading to the rest of Latin America. Transmitted by mosquitos, the virus is believed to cause birth defects and neurological problems. There have been around 1,300 confirmed cases of microcephaly, babies born with small brains, in Brazil, with thousands more under investigation.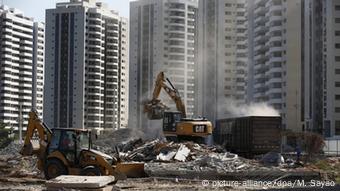 The Athletes' Village under construction in Rio de Janeiro
Olympic worries include slow ticket sales, cuts in security spending, and the death of two cyclists last month when a clifftop bike lane built for Olympic visitors collapsed into the sea.
Interim President Michel Temer is expected to declare the games "open" on 5 August.
ipj/jm (AFP, AP)