Three German soldiers died after a gunman opened fire on troops in Afghanistan's northern Baghlan province, sources in the German government said on Friday.
The attacker launched the assault on soldiers at the "Observation Point North" base, in the Puli Khumri district, while they were performing maintenance on a vehicle. One soldier, a 30-year-old sergeant, was reported to have died at the scene, with several wounded colleagues transported to base for medical attention. The gunman himself was killed following exchanges of fire.
The Germany Defense Ministry later confirmed the death of a second and third soldier who died of their wounds several hours after the attack.
German Foreign Minister Guido Westerwelle condemned the incident as a "treacherous terrorist attack."
According to the NATO-led International Security Force, the attacker was dressed in an Afghan army uniform. German military sources said the fire, apparently from a submachine gun, came from "close quarters."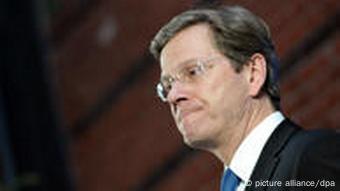 Westerwelle condemned the attack as "treacherous"
The wounded troops were taken by helicopter to the main Puli Khumri base to be later moved to a military hospital in Kunduz. Three of the remaining wounded soldiers were considered to be in a serious condition.
Officials in Berlin provided no immediate explanation of how the gunman entered the base, which is home to some 500 German soldiers. However, they said that rebuilding work meant that many more Afghans than usual were regularly present on the site.
Taliban spokesman denies involvement
Speaking by telephone, Taliban spokesman Zabiullah Mujahid denied that the attacker belonged to the Taliban.
The incident came just after German Defense Minister Karl-Theodor zu Guttenberg had concluded an overnight visit to the region on Thursday.
The site of the attack is considered one of the most dangerous parts of Afghanistan that German forces are guarding. Some 600 German troops are stationed in Baghlan and five German soldiers died in the province last year.
Germany has a total of 4,800 troops in Afghanistan, the third largest foreign force behind the US and Britain. A total of 48 German soldiers have now died in Afghanistan since the beginning of the mission.
Author: Shant Shahrigian, Richard Connor (AFP, dapd, Reuters)
Editor: Andreas Illmer