The crowd sang and chanted slogans at the Wednesday rally, calling for the 92-year-old president to rule for life. Many of the march participants wore symbols of Mugabe's ZANU-PF party.
"This has given us the chance to express our solidarity with our president," the organization's youth official Tinashe Wenyika said.
"We remain committed to our party as young people and this is a sign that the center still holds."
The demonstrators marched through Harare before stopping at the 15-story headquarters of the ruling faction. Speakers at the rally decried the anti-government movement led by pastor Evan Mawarire, which shut down most businesses, schools, hospitals, and government offices in a massive act of civil disobedience less than two weeks ago.
Protest voices a 'joke'
The government critics accuse the administration of corruption, declining economy and cash shortages, as well as police brutality and human rights abuses. Other information also indicated the government had trouble paying its troops and public servants.
During the Wednesday rally, however, the pro-government speakers vowed to protect the president. ZANU-PF youth leader Kudzai Chipanga praised Mugabe's plans to parcel out urban land for housing to youths.
"You go around claiming you are tired of the president. Our president is delivering on his promises," he said. "You want to disturb him, we are here to defend him."
Other government supporters also praised Mugabe's 36-year rule.
"What pastor Mawarire is saying is just a joke and it's paranoid," one of the demonstrators said.
"We don't take paranoid as something that can rule the country."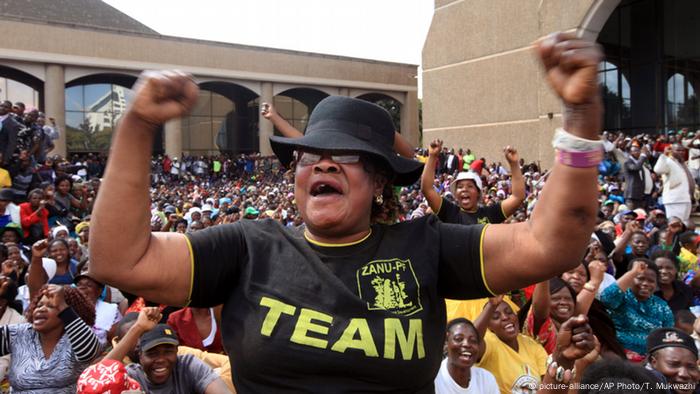 Mawarire in South Africa
Faced with the wave of anti-government protests, Mugabe has called on the voters to line behind his cabinet.
Speaking at a funeral earlier this week, Mugabe warned the people to "beware these men of the cloth," alluding to the opposition preacher.
"The Mawarires, if they don't like to live with us, let them go to those who are sponsoring them, to the countries that are sponsoring them," the president said.
Government officials also accused French and American ambassadors in Harare of supporting the protesters, which they denied.
Mawarire was arrested and charged with treason after the protest, but a Zimbabwean court threw out his case last week. The pastor then traveled to South Africa for what he claims to be a prearranged visit. He has vowed to return to Zimbabwe soon.
dj/kl(Reuters, AP, AFP)