Germany's Federal Police doubled its earlier prediction of 5,000 migrants for Sunday, with many more people bypassing Austria and coming north to Germany than previously expected.
A spokesperson for the government of the Upper Bavaria region, which includes Munich, said Sunday evening that more than 10,000 refugees were due to have arrived in Munich by day's end.
A day earlier, Munich greeted some 7,000 refugees; more than half of them were given a bed for the night in the Bavarian capital, in what are known as first reception facilities.
Others continued their journey on Sunday with 570 refugees traveling on to Saalfeld in Thuringia. In Saxony's capital, Dresden, army officers had prepared temporary shelter for 350 newcomers.
More trains also brought refugees to the cities of Berlin, Hamburg, Frankfurt and Dortmund.
The heartfelt reception seen in Munich was echoed throughout the country, with locals welcoming those arriving with cheers and applause. Hundreds of people were seen handing out food, warm drinks and toys for children.
'Totally wrong signal'
Most of the estimated 17,000 refugees expected to have entered Germany over the weekend had been held up in Hungary earlier this week, trapped at train stations after Hungarian authorities led by Prime Minister Viktor Orban blocked them from travelling on toward Germany.
In a surprise move over the weekend, Germany and Austria announced they would open their borders to refugees, which contravenes European policy that says all people who are seeking asylum must apply in the first EU country they enter.
The decision by Chancellor Angela Merkel to allow refugees stranded in Hungary to enter Germany has caused a rift in her conservative bloc, as her Bavarian allies have accused her of sending a "totally wrong signal" to the rest of Europe.
Bavarian Interior Minister Joachim Herrmann, whose Christian Social Union (CSU) is Merkel's partner in a conservative alliance on the federal level, accused the chancellor of having pushed forward without asking individual German states, which have had to cope with the consequences.
According to a report in the Sunday edition of German newspaper, the "Frankfurter Allgemeine Zeitung" (FAS), financial costs for Germany could reach anywhere between 9 and 10.5 billion euros ($11.7 billion) by the end of the year.
Germany expects a record influx of 800,000 migrants and refugees this year, by far the most in the European Union. More than 100,000 asylum seekers were registered in August alone.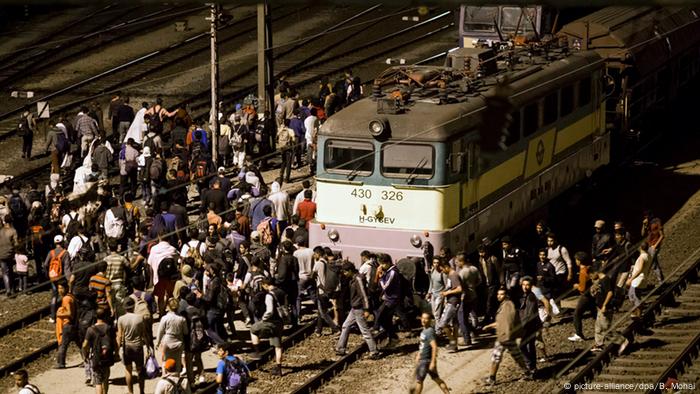 Thousands of people were stranded at Hungarian train stations this week
Austria to end emergency measures
After talks with Merkel and Orban, Austrian Chancellor Werner Faymann said Sunday that the emergency measures that allowed refugees into Austria from Hungary without checks over the weekend would be ended.
"We have always said this is an emergency situation in which we must act quickly and humanely. We have helped more than 12,000 people in an acute situation," Faymann said.
"Now we have to move step-by-step away from emergency measures towards normality, in conformity with the law and dignity."
Pope calls on all Catholics to open doors
Meanwhile, speaking on Sunday at St Peter's Square in Rome, Pope Francis called on European churches to each take in one refugee family.
"Every parish, religious community, every convent, every pilgrimage site in Europe should take in a family, beginning with my diocese in Rome," the pope urged.
glb/se (AFP, Reuters, AP, dpa)