17-year-old Massah Massaquoi lost her mother, father and uncle to Ebola. She was the only member of her family to survive.
The virus has shattered her life. She says there is nobody to help her with her education. "Life is very difficult. I am not myself, because I am not seeing Mother so I am not happy," she told DW.
Jeremiah and Mercy Cooper, aged 17 and 14 respectively, have lost their parents and their younger brother.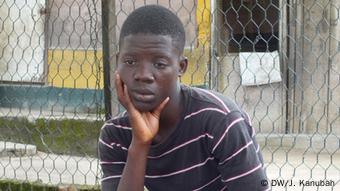 Jeremiah Cooper says he and his sister were ostracized because their parents had died of Ebola
"I always think about them. I am feeling so bad. As I am talking to you, tears want to come down from my eyes. When I think about them, it hurts. I will always miss them," said Jeremiah.
Mercy is equally distraught at the loss of her relatives. "What they used to do for me, no other person can do for me. So when I think about them, I can cry," she said.
Ostracized by the community
The pair were forced to leave their community because of the stigma attached to Ebola.
"The people were afraid of us. They said we were Ebola patients. They used to refer to our house as the Ebola house. We were not free in the community," said Jeremiah.
Jeremiah and Mercy are now living with another uncle elsewhere. An estimated 2,000 children have been orphaned by the Ebola outbreak in Liberia.
Ebola orphans at risk
Child rights campaigner, Amos Sawboh, who runs the advocacy group Orphan Concern Liberia says it is not just the well-being of these children that is at risk, but their very survival as well.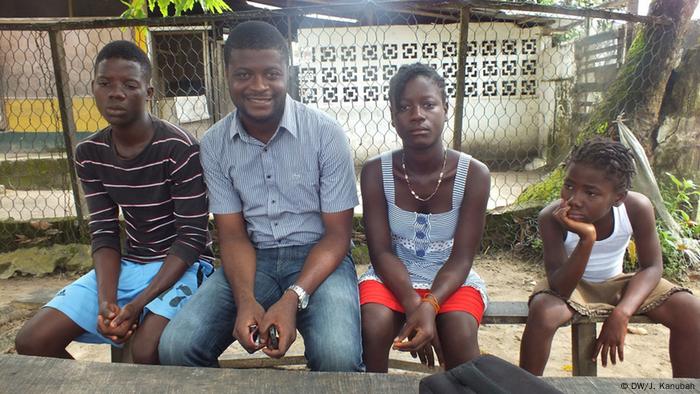 Amos Sawboh (second from the left) says more needs to done to help Ebola orphans in Liberia
"The situation is very deplorable. Imagine a child who lost both parents who cannot afford to eat," Sawboh said.
He explained that surviving members of a family often do not have the means to support the orphans and that action was needed to give these bereaving children some hope of a better future.