The official global reactions to the choices, made with such surprising swiftness on Thursday night, have been predictably bland.
"I warmly congratulate President Van Rompuy and my new counterpart High Representative Ashton," US Secretary of State Hillary Clinton said in her official statement, before adding: "I look forward to working closely with them to strengthen and broaden our partnership."
Despite the unknown nature of the two new names, there has been very little concern among world leaders about what effect they will have. As far as the personalities of the appointees go, few people fear that they will rock the boat of international diplomacy. Van Rompuy effectively confirmed as much in his acceptance speech, in which he presented himself as a mediator.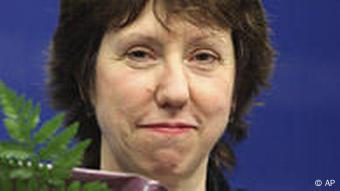 Ashton has some urgent networking to do
The European Union, apparently, is not as serious as it had made out about asserting itself on a world stage.
But Janis Emmanouilidis, Senior Policy Analyst at the European Policy Centre believes that this perception was something of a myth.
"The EU was always looking for a chairman and a coordinator," he said. "Van Rompuy's new powers do not correspond to those of the president of a state. So all the talk of an EU president in the media was misleading."
Emmanouilidis sees Catherine Ashton's appointment with a little more skepticism.
"The fact that Ashton has no foreign policy experience is surprising, because if you look at the challenges ahead, it is rather a negative."
Marco Incerti, Research Fellow at the Centre for European Policy Studies, agreed: "Ashton's position is the kind of job where previous experience would have helped in very practical terms. International relations is an area where people have to build networks.
"In a year's time it will be different, but that's a year that could have been spent getting things going," Incerti said
Confirmed stereotypes
There is little doubt that the appointments will be interpreted by many of the EU's internal detractors - particularly the euroskeptics in Britain and eastern Europe - as a sign of weakness.
Many Europeans outside the Brussels bubble will see their worst prejudices of the EU confirmed. Namely, that the organization's appointments tend to be less about democracy, transparency and merit than about political deals designed to balance the competing interests of the bloc's various centers of power.
"I think there are people in other capitals who will have read this morning's papers and rolled their eyes and asked themselves when Europe will finally get itself together," said Incerti. "It might not be true necessarily, but it will have been seen as a negative signal."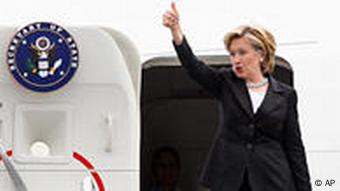 Hillary Clinton may have hoped for a more dynamic appointment
Once again, observers will be concluding that the EU's most powerful countries are merely looking out for their own interests.
French President Nikolas Sarkozy and German Chancellor Angela Merkel chose someone who would not threaten their authority. Meanwhile, Britain, always that awkward partner in Europe's economic triumvirate, was appeased with a high-profile appointment, though not with the candidate it was hoping for, the still-contentious Tony Blair.
US wants a strong partner
Outside Europe, of course, there is less interest in the EU's internal bickering between nation states and federalists. Abroad, the main concern is finding a stronger ally, which these appointments do not exactly foster.
As both Clinton and President Barack Obama confirmed in their congratulatory statements, the EU is one of the United States' most important partners in international affairs, and Europe's role has grown more important in recent years.
"Five years ago, the US probably didn't want a strong Europe," said Emmanouilidis. "But I think the new US administration sees this importance."
In this sense, it seems that the US will be fairly disappointed with the choices. With western powers searching for a way of extracting themselves from the bloody conflicts in Iraq and Afghanistan, an assertive European leader with a bigger name could have served an important role.
In the event, the appointments will do nothing to strengthen the position of the EU in so-called "hard" foreign policy - defense and security. In these areas, the EU will probably continue to be perceived as irrelevant.
China and India
Incerti said the world's emerging superpowers, China and India, had probably also hoped for more dynamic leaders.
"The choice will send a bad signal to India and China, because I think they, even more than the US, have been waiting for some kind of statement from the EU. They wanted Europe to take responsibility and come of age."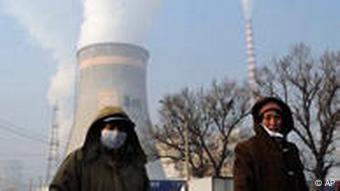 Even in China, the EU is seen as leader on the climate change issue
Emmanouilidis is less convinced that China and India had been expecting something impressive.
"Let's pretend that China and India are interested," he says, "Then there will be some degree of disappointment. I mean they don't perceive the EU as a key political actor when it comes to foreign policy, and this choice will not change that picture."
But in "soft" foreign policy - areas where the international community faces the urgent need for consensus, the most obvious current example being climate change - the EU is perceived globally as an important player, and these appointments can be expected to enhance its influence.
Contrasting attitudes at home
At home, political developments could soon undermine the new team. Belgium is due to inherit the rotating EU presidency in the second half of next year, and Van Rompuy, who is credited with keeping the fractious nation together in his short term as prime minister, can certainly count on its support.
"They'll step back and give him room," says Emmanouilidis.
Ashton, on the other hand, represents the ailing British Labour party, which could hardly be in a worse domestic position. It is more than likely that the Labour government will be replaced in next year's general election by the euroskeptic Conservative party, leaving Ashton isolated.
"Will she have strong backing from London? I doubt that," Emmanouilidis concludes.
The used-by-date of at least one of the appointees could be up before the end of her full term in office.
Author: Ben Knight
Editor: Nathan Witkop