Sculptor Stephan Huber has turned a romantic old riverside mill into his home and its shed into a spacious studio. "This is where I think," he says. It gives him the energy and inspiration for his works, which feature baroque-Catholic opulence and exuberantly theatrical imagery. "The forms of childhood become forms of art. The mountains are a romantic pathos formula that works between Eindhoven and New York," says Huber.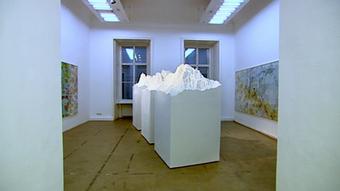 Stefan Huber takes his Alpine peaks from photographs and maps and transforms them into sublime sculptures.
When Huber was 14, his parents gave him a box of paints, and he enthusiastically painted small Van Gogh pictures by numbers. That's when he knew he wanted to become an artist. After graduating from high school, he studied at the Munich Academy. He was lucky and won a scholarship to study in New York, as well as mounting his first exhibitions. Success and recognition both came quickly.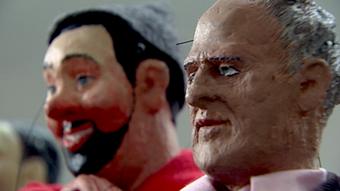 The artist likes to use the children's puppet theater to pose questions about the world.

The documentary follows Huber as he prepares for an exhibition in Vienna and shows the strength of his connection to his native southern Germany. We see him in his studio, devotedly packing his puppet theater for the trip. His little World Theater is yet another facet of the artist. These include his double, the Stephan Huber Doll, whose voice is provocative. "My puppet takes a trip in time," he says. It meets the icons of the artist's youth, such as Andy Warhol, Charles Manson, Timothy Leary, and Theodor W. Adorno, and marvels at them – all with a subversive naivety. "But they made me what I am," Huber says as he listens to the music of the Rolling Stones!

Broadcasting Hours:

DW

SAT 28.02.2015 – 22:15 UTC
SUN 01.03.2015 – 06:15 UTC
SUN 01.03.2015 – 13:15 UTC
SUN 01.03.2015 – 17:15 UTC
MON 02.03.2015 – 04:15 UTC
MON 02.03.2015 – 10:15 UTC

Cape Town UTC +2 | Delhi UTC +5,5 | Hong Kong UTC +8
San Francisco UTC -8 | Edmonton UTC -7 | New York UTC -5

DW (Europe)

SUN 01.03.2015 – 04:15 UTC
SUN 01.03.2015 – 17:15 UTC
MON 02.03.2015 – 06:15 UTC
MON 02.03.2015 – 13:15 UTC

London UTC +0 | Berlin UTC +1 | Moscow UTC +3

DW (Arabia)

SUN 01.03.2015 – 04:15 UTC

Tunis UTC +1 | Cairo UTC + 2 | Dubai UTC +4

DW (Amerika)

SUN 01.03.2015 – 06:15 UTC

Vancouver UTC -8 | New York UTC -5 | Sao Paulo UTC -3