After operations against Boko Haram in neighboring Cameroon, Chadian troops are now fighting the insurgents inside Nigeria.
This development has been welcomed by many Nigerians. "I don't think it's a bad idea that the Chadians came into Nigeria because there have been discussions going on about how the West African countries can come together to fight terrorism," a resident of Lagos told DW's correspondent there. Terrorism is a global phenomenon, he said, "and it is definitely escalating into Chad, Niger, Cameroon and other countries."
On Wednesday (04.02.2015) the Chadian military announced that Chadian troops had killed at least 200 fighters of the Boko Haram terror group in Gambaru in northeastern Nigeria. One day earlier, soldiers from Chad had for the first time advanced into the region controlled by Boko Haram. The Islamist fighters fled across the border to Cameroon where they became involved in heavy fighting with troops from Chad and Cameroon in the border town of Fotokol which is separated from Gambaru by a 500 meter (546 yards)-long bridge.
Fotokol residents said Boko Haram fighters had cut the throats of civilians and set the mosque on fire.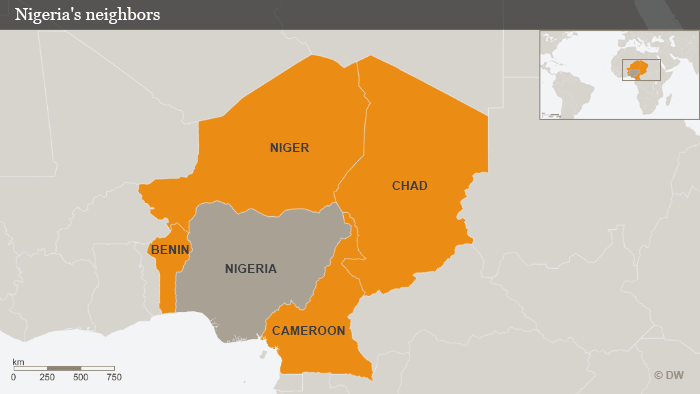 Chad concerned about supply routes
For Chad, more is at stake than just keeping the terror group out of its territory, Norbert Cyffer, professor emeritus of African studies and an expert on the region, said in an interview with DW. Chad is to a large extent dependent on supplies from outside its borders, he said. "Supply routes run through Maiduguri in the northeast – the center of Borno State – and then to the west to the Nigerian border, to Gambaru and then to Fotokol on the Cameroonian side." This meant that Boko Haram attacks were also a threat to Chad.
Another important aspect is the wealth of resources believed to lie beneath Lake Chad which Chad wants to protect against attack, Cyffer said.
The region around Lake Chad is inhabited by large numbers of the Kanuri ethnic group. In Nigeria, there are believed to be between four and five million of them, and about one million in Chad. The cross-border ethnic links are a remnant of the Kanem-Bornu empire which existed until the early 19th century, Cyffer told DW.
Many members of Boko Haram are thought to belong to the Kanuri. There have been reports in which survivors of Boko Haram massacres said their attackers had come from Chad. "One must of course first ask where this information originates. Does it come from Nigeria?" Cyffer said. "Whenever there is a coup or attempted coup in Africa, the enemy is frequently sought outside the country. That is perhaps an easier explanation than to say we have to look inside our own society."
Poverty as motivation?
Boko Haram often attracts mercenaries who join the group for a few hundred dollars without sharing their ideology or even being familiar with it, Cyffer said. Chad is a poor country, and so it is entirely possible that poverty could be one reason for joining up.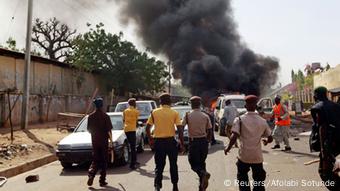 A bomb attack in the northern Nigerian city of Gombe in early February
For Lucien Pambou, university professor and co-publisher of the magazine Geopolitique africaine, there are two reasons why Chad is fighting Boko Haram. Firstly, because Boko Haram wants to establish an Islamic caliphate in various countries, and secondly, because Chadian president Idriss Deby wants to show that Chad is important for the security of countries in the Sahel zone as well as in Central Africa. Deby is also facing criticism from within and so "providing help for Cameroon increases his popularity and improves his image," Pambou said.
The Chadian army is considered to be one of the strongest in the region, mainly because of its knowledge of the terrain. In 2013 it helped French forces to repel Islamists from northern Mali.
In addition to fighting in Cameroon, Chad is now also militarily active in Nigeria, a fact only grudgingly accepted by the Nigerian authorities, Cyffer said. According to a spokesman of the Nigerian defense ministry, Nigeria's sovereignty has not been violated by the presence of Chadian troops as all units were 'cooperating.'
Boko Haram is now believed to control an area in northern Nigeria the size of Belgium. Cyffer points to a longterm problem. "Chad is trying to repel Boko Haram. It seems not to be possible to eliminate them completely. And so Boko Haram fighters are pushed back from Cameroon to Nigeria, and from Nigeria they flee again to Cameroon." This meant the problem was just being shifted from one area to another while a solution remains elusive.
The African Union has now agreed to create a 7,500-strong intervention force. A meeting is to be held this week in Cameroon's capital Yaounde to finalize the new force's command structures.