The next generation of cellular networks is 5G, the fifth, after 4G (used almost interchangeably with LTE), 3G and 2G. That may sound relatively unromantic , but the breathless download speeds a 5G-graced universe should bring would have anyone feeling starry-eyed. With estimated peak download speeds of 10 gigabits per second, that's 10 times more than that of current 4G levels.
And then there's what's called latency - or how much time it takes a device to transfer a packet of data to another device. With 5G that's supposed to be reduced to a single millisecond, compared with the 50 milliseconds of today.
Hence the excitement. 5G has established itself as a thematic mainstay in Barcelona in light of the MWC's reputation as the agenda-setting event for future tech.
But many caution that the enthusiastic push to get faster network technology off the ground risks ignoring, or worse, abandoning the billions of people around the world who have little to no reliable Internet access.
Connectivity used to be about people
"One of the things that I've been hearing a lot at the MWC this year, and that I've personally thought has been a little bit disappointing, is this idea that 4G is about giving people a good experience, and 5G is about connecting things," said Facebook CEO Mark Zuckerberg in his keynote speech at the MWC.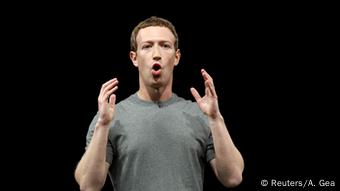 Facebook's Mark Zuckerberg insists that everyone should have access to the Internet
He argued that current developments made it entirely possible that around half of the people in the world would not have Internet access come 2020 - outlined in Facebook's just-released State of Connectivity Report.
"I hope that the folks here [at the MWC] focus on both of these priorities - making it so that there's higher bandwidth, lower latency, and faster speeds, but also that we finish our job and make sure that every person in the world has access to the Internet," he said.
Zuckerberg famously ran into difficulty trying to promote its Free Basics package, which offers free but limited Internet access in India, when telecommunications regulators raised questions and critics slammed what they considered to be an affront to net neutrality.
Innovation means no one gets left behind
But other observers don't quite see the same communication infrastructure problems currently plaguing developing countries as issues that would persist into the future, given emergent technologies.
"I'm not sure this going to be a divide between haves and have nots," said Frank Kern, CEO of software firm Aricent. "People are exploring everything from satellite, to balloons, to drones. So yes, there are some countries today that have less communication infrastructure, and therefore they have less connectivity. But companies are trying to address this at a phenomenal place."
He predicted that some less economically developed countries will "leapfrog ahead" due to their openness to ideas and innovation, while other wealthier markets may be less willing to experiment.
To Kern's mind, innovation will be the key to ensuring Internet-enabled lives for all, even in a post 5G world. But for others, like Ericsson portfolio management head Mats Norin, the struggle to keep everyone up to speed on the Internet lies in understanding how to use what already exists.
"Obviously markets differ, there are differing paces and maturities but the basic foundation for the whole of cellular technology, already exists with LTE," Norin said. "I think LTE is a big stepping stone in 5G, to make it possible for everybody to have fast speeds and be connected to the Internet. You don't have to feel that you're behind if you're not first in 5G, because you can utilize what you already have today."
He pointed out that there an opportunity for connectivity in the availability of devices whose costs would plummet and become more affordable for consumers all over the planet - like cellphones.
5G only in five years?
Powering the version of the future where everything is connected will be the strongest driver for 5G development. But no one can quite agree on when 5G will become the standard.
Three years ago, Huawei pledged to invest half a billion dollars (453,000 euros) towards 5G research and developmentwith the aim of rolling out the new technology commercially by 2018. But speaking at the MWC, the company's CEO heralded a longer wait.
"5G will not be commercially deployed before 2020," Guo Ping, CEO of Chinese mobile manufacturer Huawei, told MWC attendees. "It might even take longer to roll out 5G on a large scale."
For now, the network technology of the future is still in the future. It may be a race, but the course is longer than expected. Still, few people doubt 5G's eventual arrival - and the new world that will come with it.