The Mia San Mia Phenomenon aired for the first time in a Berlin cinema on Tuesday and is now available worldwide. Just click in the player above and settle down for 85 minutes on what makes Bayern Munich what it is, on the "mia san mia" phenomenon. Some 500 guests, including former Bayern stars like Franz Roth and Klaus Augenthaler, were present in the Babylon theater, as were some of the Bayern fans from all corners of the world who featured in the film.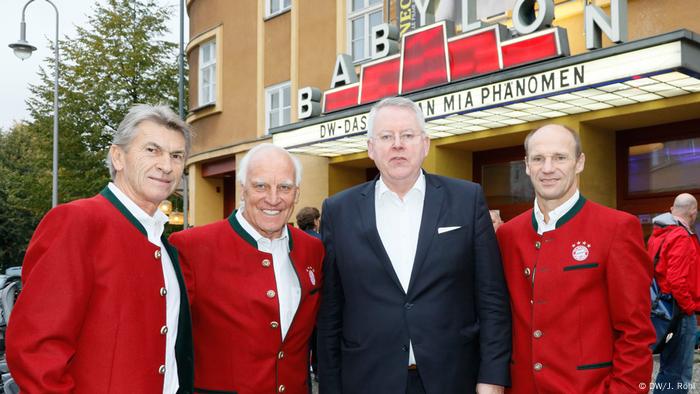 DW diretor general Peter Limbourg (2nd from right) with Bayern legends Klaus Augenthaler (l.), Franz Roth (2nd l.) and Hans Pflügler (r.)
Read on for a precis of the documentary, written by one of its directors:
When an injury forced Uli Hoeness to retire from football in 1979 and he became, at 27, the youngest sporting director in the history of the Bundesliga, he had a clear vision: "I was always of the opinion that Bayern Munich could develop from a small club to a world brand," he said in the new television station of Bayern's official club channel "FCB TV" on Säbener Street in Munich. The club's football stars, valued together at around €580 million, were training on the other side of the glass window behind him. Just this summer, the club gave out €120 million in transfer fees to acquire James Rodriguez, Corentin Tolisso and Kingsley Coman.
The Bundesliga is not enough
The Rekordmeister (a term which translates to "record champions") have dominated football across Germany for years — true to their motto "Mia San Mia" (Bavarian German which loosely translates to "We are who we are"). The saying, a dictum also throughout Bavaria, originally stems from the Austrian army and supposedly signifies superiority and confidence. That makes an impact, said retired goalkeeper Oliver Kahn: "It also means to carry the envy and jealousy of half a country on your shoulders."
With 27 Bundesliga championships and 18 German Cup victories, Germany is no longer enough: "I would give up all other titles in order to win the Champions League with Bayern," said former Bayern coach Carlo Ancelotti at the beginning of the year. He failed in that quest and has been out of a job since September 29. That's how a worldwide football business works, and Camila, a 24-year-old longtime Bayern fan, knows that. She remembers even now why that is: "When I saw Oliver Kahn for the first time 10 years ago, it happened to me!" She continues to gush: "Oliver Kahn is the man of my life, the best in the world. There is no one as wonderful as him in the whole world." Her biggest dream: to meet Oliver Kahn in person.
Kuffour's toughest hour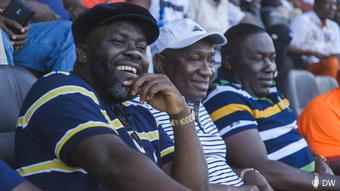 Sammy Kuffour (left) watching a football game in Ghana
Next to the success of Bayern's world brand, it is important for Hoeness to emphasize the internal unity at the club. "We haven't been just a football club for a long time, rather something like a home or a replacement family for many people in our society." If there is such a person that confirms this belief, it is Sammy Osei Kuffour. Sitting next to the pool at his villa in the Ghanaian city of Accra, the former Bayern defender discussed a tragic story from 2003: "One of the hardest moments in my life was when I lost my daughter."
When his daughter was 15, she died in a drowning accident in Ghana. Hoeness and Karl-Heinz Rummenigge, a former Bayern forward and the club's chairman since 2002, went immediately to Kuffour's house to console him. "Within two hours they organized a private jet so I could fly to Ghana," Kuffour recalled. "And the private jet remained in Accra until I handled everything." It was clear for him: "That shows you that these people are there for you."
A history of international success
Franz "Bulle" Roth laid the foundation for Bayern's international success when he scored the only and decisive goal in extra time of the UEFA Cup Winners' Cup in 1967 against Glasgow Rangers. He also played with Franz Beckenbauer, Sepp Maier and Gerd Müller. In his sports store in the Bavarian town of Bad Wörishofen, the 71-year-old remembered the championship. He said he "kept the trophy overnight in my bedframe" and he looked at it "the entire night."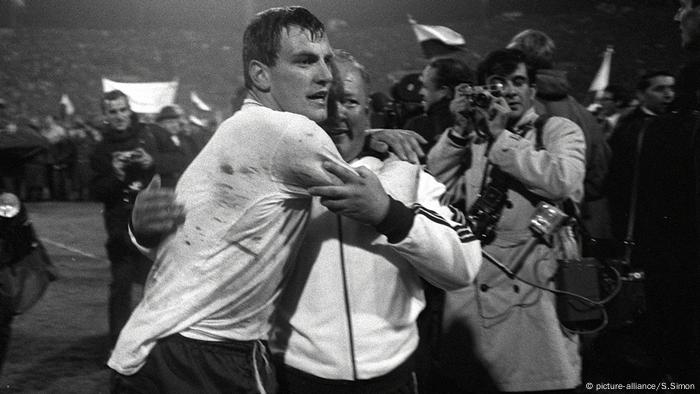 Franz Roth (left) hugs his coach, Zlatko Cajkovski, after winning the 1967 UEFA Cup Winners Cup
The Stern des Südens (Bayern Munich's nickname meaning "star of the south") have won 60 domestic and international titles since this legendary competition, including five European Cup/Champions League titles. They are one of the most successful clubs in the world — and one of the biggest too. They have 300,000 members at the club. By comparison, Real Madrid has around 100,000, Barcelona and Manchester United around 150,000 members each. "At one point, we generated 12 million Deustchmarks (roughly €6.1 million in 2017) turnover with 20 employees," said Hoeness. "Now we have around €630 million ($740 million) turnover and almost 1,000 employees."
What is the 'Mia San Mia' phenomenon?
To make sense of these statistics and to put a face to this international Bayern Munich phenomenon, DW filmmakers Niels Eixler and Manuel Vering traveled 50,000 kilometers (around 30,000 miles) around the world. Packed with them were their cameras and burning questions: What makes this club so fascinating? Is "mia san mia" a meaningful motto or just a marketing slogan? Why have Bayern touched the hearts of fans in Brazil as much as London, New York, Japan, Ghana or Tel Aviv? What are its drawbacks?
The 85-minute documentary "The 'Mia San Mia' Phenomenon" from Deutsche Welle premieres on October 10, 2017. It not only shows players and members of the club management up close, but also Bayern fans around the world. And what role they have has long since made Uli Hoeness' vision of turning a small club into a world come true.