More and more people keep coming, according to Emilios Dounias, Logistics Supervisor of Medicins Sans Frontieres (MSF). There are approximately 10,000 people at a camp that can only hold around 3,000. Idomeni has turned into a Middle Eastern bazaar where you can meet people from everywhere.
Although one could always run across people from Kurdistan, their numbers seems to have increased due to the conflict in Syria and Turkey.
Sami, a 24 year old architecture student, is from Aleppo. He is traveling with his family of three. He decided to flee the country because of "Islamic State". "I fled for religious reasons. One day "IS" came and threatened to kill us because we do not believe in God. Fleeing was our only option," he says.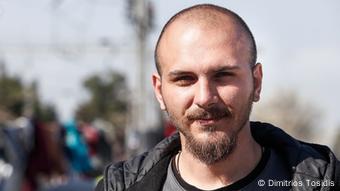 Sami, a Kurd from Aleppo, fled Syria because 'IS' threatened to kill his family
Sami, loves his city, he did not want to leave and wishes he could continue his studies. "I don't know if I will continue my studies, but I hope to one day. My family and I just want to survive," he continues.
When asked if he will ever return to Syria after the war is finished "Absolutely!" he replied with passion and certainty in his voice. "My country is beautiful and I want to be able to go back and build my life there. I had a good life in Syria before the war, but now, everything is destroyed and I can no longer stay there; It's the first time I've lived in a tent."
Looking for a better life
Sami met Baidar and Ahmed in Idomeni, although they were all from Aleppo; they became friends instantly. Baidar and Ahmed, however, have been friends for more than 10 years. They both studied economics; Baidar in Gaziantep, Turkey and Ahmed in Aleppo.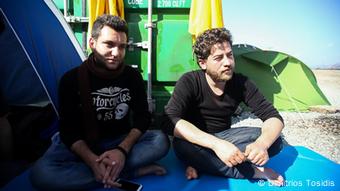 Baidar (l.) and Ahmed, Kurds from Aleppo, hope to continue their studies in Europe
"I want to continue my studies and finally do a Master's degree in England or Germany, I don't know… maybe" says Ahmed, 25. "We stayed in Aleppo for three years but the war in Syria is not finished – you know that. We decided to go to Europe for a better life," continues Baidar, 24.
Despite the horrible conditions in the Idomeni's camp, Baidar and Ahmed are two of the most positive thinking people there. Although they have been stranded in a tent onm the Greek side of the border, they are grateful for everything Greece has offered them and have nothing negative to say.
"I think everything in the camp is very good. It's crowded, but it's OK. We only have one problem, food… because it's very crowded it's not enough for everyone," says Ahmed. "And shower!" jokes Baidar. "I want to say one last thing… Thanks Greece for everything…really," continues Ahmed with a grateful look in his eyes.
A bit of ingenuity and entrepreneurship
A few metres away a handwritten sign in Arabic says 'hairdresser'. A group of men stand in front of it; "Come here" one man shouts, "Look at him, he's the hairdresser, he can give you a haircut if you want," he says smiling.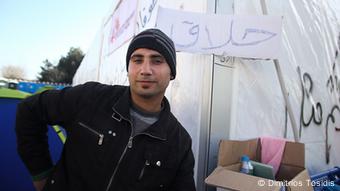 Osman, a Rojava Kurd from Aleppo, stands in front of his makeshift barbershop
He talks about Osman, a 31-year old man; a Rojava Kurd of Aleppo. Right outside the big tent of Camp B in Idomeni he has set up a makeshift salon, offering his services to stranded refugees, aid workers, journalists and any one who approaches him. Passionate about his job he has brought his hairdressing kit from Aleppo; a pair of scissors, a comb, and an electric grooming machine.
"I have this machine for men, but there is no stable electricity in this camp… there is in the other one though," he says. "I had to leave my home and business because of the war… IS, Bashar al-Assad, al-Nusra, everyone really. I hope to open a salon in Germany. My whole family is already there," he emphasizes.
Although the conditions in Idomeni are deteriorating as more and more people arrive, hope is still there. People may be desperate, but they keep on smiling. They may not know when, but at least they know it will happen at some point. And the brave people from Kurdistan seem to be the most calm and hopeful ones.
"Everyone has seen what happened yesterday, but it is our fault. Tear gas was an expected outcome since they started throwing stones. I told them to stay calm, but they didn't listen. At some point we will cross, we just don't know when," says Sami.