"Where on earth are they all coming from?" Vincenzo Nibali must be asking himself. The Italian veteran sat out the Tour de France last month and watched from the side lines as Tadej Pogacar shocked the cycling world.
Now, on home turf at the Giro d'Italia, he's having to deal directly with another young star: João Almeida. The 22-year-old from Portugal performed from the off on the stage one time trial before holding his own Mount Etna. He added further bonus seconds on the sprint over the Apennines, a young body racing with an older head.
"We have to take him seriously as a rival," says Paolo Slongo, Nibali's coach at team Trek Segafredo. Slongo has been in the business for 24 years, first coaching the juniors and since 2008 on the World Tour.
Now, he's witnessing a culture change across the sport. "Cycling is changing, without a doubt," he says. "A new generation is coming."
The likes of Nibali, Chris Froome and Geraint Thomas, who have dominated the sport in recent years, are now in their mid-thirties and are beginning to reach their limits, says Slongo. In contrast to the ambitious younger riders, "an extremely strong generation."
Not a normal generational shift
But this isn't simply a generational shift; the new riders are excelling much earlier than their predecessors. Colombia's Egan Bernal was only 22 when he won last year's Tour de France. This year's winner, Pogacar, was still only 21 when he mounted the podium in Paris.
Almeida is only six weeks older and is currently leading the Giro, in place of his even younger team captain Remco Evenepoel after the 20-year-old Belgian, an ex-footballer, crashed ahead of the race.
"Unfortunately, Remco can't be here," says Davide Bramati, sporting director at team Deceuninck Quick Step. "If he were here, he would also be one of the main protagonists." Still, his replacement isn't doing too badly, and neither are his peers.
At the time trial in Palermo, they showed the old guard up. The first three, Fillippo Ganna, Almeida and Mikkel Bjerg, were all aged between 22 and 24, and another youngster, Tobias Foss, came fifth. Only British veteran Geraint Thomas was able to buck the trend in fourth, before committing a schoolboy error later on, riding over a discarded water bottle, crashing and retiring from the race altogether due to injury.
Systematic preparation and trust
The young guns, having been through more professional preparation than ever in the youth ranks, aren't making such mistakes.
"The riders coming from the Continental [editor's note: the third tier category] teams are already semi-pro," explains coach Slongo. "In the past, when riders like Nibali were that age, they were still living off bread and salami, as we say in Italy. In other words: they were still amateurs."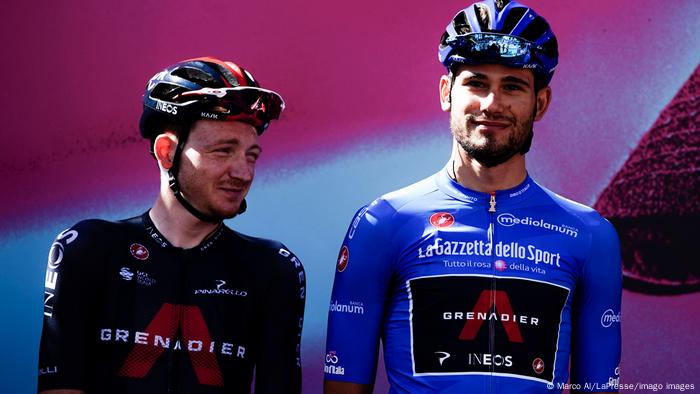 Ineos also focuses on youth: Briton Tao Geoghegan Hart (left) and Italian Filippo Ganna
That's no longer the case, with even the Continental teams placing a huge emphasis on diet, training and conditioning. "They're shortening the stages of development and it shows in the performance," says Slongo.
Professional preparation is one thing, but there's another explanation for the strength of the young riders which is less quantifiable: trust.
"The mentality of the teams has changed," says Giuseppe Martinelli, head of sport at team Astana. "Previously, teams would have allowed a 21-year-old time to grow by giving him smaller tasks. Then, when he was 25 or 26, they would really deploy him properly."
Martinelli, who led Marco Pantani to a Giro and Tour double in 1998, believes that may have been a mistake. "Then again, maybe today's younger riders won't last as long," he adds. "Maybe, in two or three years, we'll look back and say we put them under too much pressure."
Generational shift at Ineos
The new generation is also coming through at Ineos. With Filippo Ganna, the former Team Sky already has a double Giro stage winner in its ranks, the 24-year-old having already claimed victory in the time-trial and on Etna.
Two weeks ago, he stormed to the time-trial world championship and Italian journalists are already tipping him to be the new Miguel Indurain, who won five Tours de France.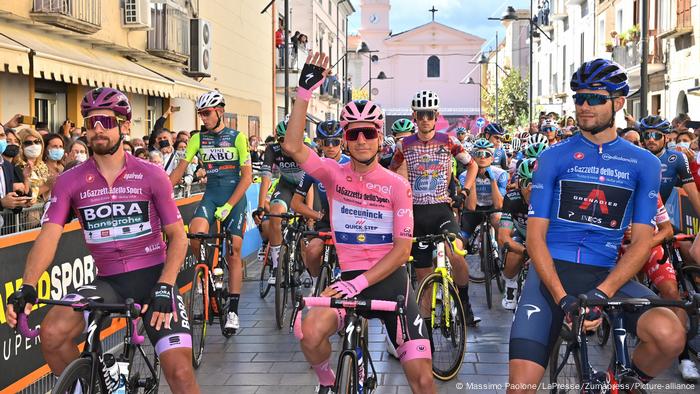 The front row of the Giro 2020: Peter Sagan, Joao Almeida and Filippo Ganna (left to right)
With the Colombians Bernal and Ivan Sosa, Russia's Pavel Sivakov and Britain's Tao Geoghegan and Eddy Dunbar, Ineos aren't short of up-and-coming talent. Hart and Dunbar even came through the same youth system as Almeida, Axeon Hagens Berman. The team has forged a reputation a genuine talent factory under the leadership of Axel Merckx, son of cycling legend Eddy.
Ineos remain the team to beat
Bernal and Thomas might have crashed out on the last two stages, but nobody is writing Ineos off just yet.
"On the contrary," insists Martinelli, who believes the future still belongs to Ineos. "They are still one of the strongest teams and could still switch everything around and coming first, second and third at the Vuelta a Espana."
Nevertheless, the British outfit still missed out on Almeida, the man of the hour at the Giro d'Italia. At any rate, it would be impossible to gather all the talent in this new golden generation in one team – and that's good news for everyone else, including veterans like Vincenzo Nibali.