American director Gus Van Sant won the Cannes Film Festival's top award, the Palme d'Or, on Sunday for his film, "Elephant." But the 56th International Film Festival on the French Riviera ended on a sour note, with commentators slamming this year's jolly as damp quid.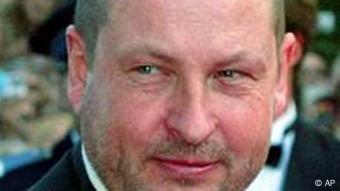 Van Sant -- who previously directed hit flicks "My private Idaho" and "Good Will Hunting" -- beat maverick Danish director Lars von Trier (photo) to take home the coveted award. Von Trier's "Dogville," starring Nicole Kidman had been expected to win, and producers reportedly shelled out half a million U.S. dollars to bring the Oscar-winning star of "The Hours" to Cannes.
Van Sant, who is from Portland, Oregon, used young non- professional actors from his home state for the film, a tale of everyday high school life that takes a tragic turn when the students go on a shooting spree.
The 50-year-old, long lauded on the other side of the Atlantic, was overjoyed at finally getting the stamp of approval from the French art house brigade.
"I thought I was finished," an emotional Van Sant told the awards ceremony. "I've been trying to get my films to Cannes for years. To win is miraculous and fortunate and lucky."
Not anti-American
But Van Sant, who also won the prize for best direction, rebuffed suggestions that "Elephant" followed in the footsteps of last year's Cannes documentary winner, Michael Moore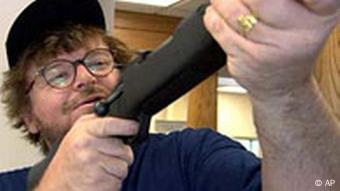 (photo). American Moore, who has taken an extremely critical view of U.S. culture and policies in his recent work, won a Cannes prize and an Oscar for his anti-gun documentary "Bowling for Columbine."
"I don't think it is an anti-American film," Van Sant said. "It's made from my viewpoint of my life in the U.S. I don't think of it as an attack on America so much as an investigational movie about high school violence in America. It's a comment about the structure of society and the relationships between students."
Human focus
Away from the prissy high school girls and arrogant jocks in Van Sant's "Elephant," the Cannes jury appeared to favor human-interest films in all the festival prize categories this year.
Muzaffer Ozdemir and the late Mehemet Emin Toprak shared the prize for best actor for their performances in Turkish film "Distant." The movie, about a lonely photographer plagued by an unemployed relative, also won the Grand Jury prize. Meanwhile, the French-Canadian film "The Barbarian Invasions," about a middle aged professor dying from cancer, scooped awards for best screenplay and best actress. And young Iranian director Samira Makhmalbaf won the Jury prize for "Panj E Asr" (At five in the Afternoon). The film by the 23-year-old focuses on one woman trying to cope in post-Taliban Afghanistan.
Berlin set to take up the baton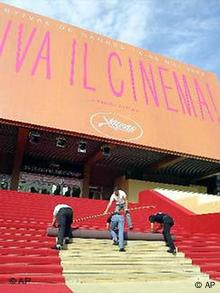 Palais du Film
But for many, this year's film festival -- which suffered a 7 percent drop in visitors -- did not meet expectations. After previous Palme d'Or winners Quentin Tarantino and Joel and Ethan Coen withdrew their entries, commentators dismissed the remaining competitors as slim pickings. The European online film review Screen Daily said the "choices were considered the worst in living memory."
Miramax chairman Harvey Weinstein said Cannes put participants under "overwhelming pressure" and attacked the festival for being "hypocritical." But Weinstein, who is regarded as one of the most powerful men in Hollywood, was full of praise for Cannes competitor festivals -- including the Venice Film Festival and the Berlin International Film Festival.
Germany's State Minister for Media and Culture, Christina Weiss, was only too pleased to take up the baton. "Berlin is strong, because Cannes was so weak," she said at the festival.