Four men. All around the same age. Musicians and actors, celebrities. Dead. Is there a lesson in this story for the rest of us?
It started with Lemmy Kilmister.
When Lemmy died in late December, just days after learning he had an "aggressive" form of cancer - tumors in the brain and neck - it didn't come as the biggest surprise to hear he was gone. Sad as it was.
The Motörhead front man had had a 50 year history of living in the rock 'n' roll fastlane. An almost constant flow of whisky fuelled his day, and then there were the amphetamines.
Lemmy also suffered from hypertension and was known to take medication for diabetes. He had just turned 70.
Then about a week later David Bowie died after an 18 month battle with liver cancer. Bowie had also had a history of drug and alcohol addiction, but was long sober. He had just turned 69.
Five days later, Alan Rickman, the Die Hard, Robin Hood and Harry Potter actor, died from pancreatic cancer. In February, Rickman would have turned 70.
And, now, Glenn Frey. A statement released by his family and band, The Eagles, says he died due to "complications from rheumatoid arthritis, acute ulcerative colitis and pneumonia." He was aged 67.
Of a similar age
Is it just because they were famous men, who had lived a colorful life on the edge - that is, the musicians among them? (Rickman, it seems, was the quintessential English actor, trained at the Royal Academy of Dramatic Art and a member of the Royal Shakespeare Company, with little time for rockstar debauchery on LA's Sunset Strip.)
Had the drugs and alcohol caused cancer for Lemmy and Bowie?
Or was it just their time to go - in their late 60s?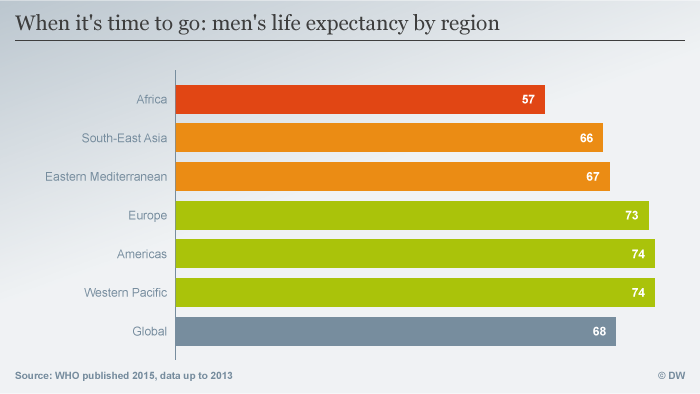 Lemmy, Bowie, Rickman, and Frey were still relatively young.
These figures from the World Health Organization indicate they each had at least another five years in them.
So perhaps there is a lesson in this for all of us.
Don't let the Reaper take you by surprise
If you're lucky, how you go should be up to you. You may want to simply fall off the edge of the planet. Others may prefer a little warning.
The most shocking thing about Lemmy's death is that he had only just learned of his diagnosis - and only days later the lights went out.
But if you're the sort of person who likes to plan things in life, go for regular medical check ups.
The US National Institutes of Health is just one government body offering information on when adult men should go for screening, and what we should screen for.
For example, you should consider the following checks:
Blood pressure screening - every 2 years if you're between 40 and 64 years of age
Cholesterol and heart disease prevention - every 5 years - over the age of 35
Diabetes screening - every 3 years - over the age of 45
Colon cancer screening - any time under 50 years of age if you have a family history of it
Prostate cancer screening - consult your doctor if you're 50 or older
Lung cancer - annual screening for smokers aged 55 to 80
This list is far from comprehensive. And the advice will vary from country to country, and region to region, depending on a range of factors.
So your best bet is ... make an appointment today.