"The main criterion is talent," says Makhar Vaziev, the new director of the Bolshoi Ballet, when talking about what it takes to become a top dancer.
But rumors have swirled around the Bolshoi ballet company for years, alleging that talent wasn't enough to get a dancer a role on the theater's historic stage.
Acid attacks
In 2013, the company's ballet director at the time, Sergey Filin, was attacked with acid by a masked man. He was almost blinded and had several operations to restore part of his eyesight. A principal dancer, Pavel Dmitrichenko - recently released on parole - was convicted for organizing the attack and sentenced to six years in prison. The court case laid bare the bitter rivalry and tensions at the Bolshoi.
Evidence was heard which alleged Sergey Filin had denied key roles to both Dmitrichenko and his then-girlfriend, Angelina Vorontsova, also a ballet dancer. Filin himself gave evidence in which he said that Dmitrichenko was vindictive and jealous. He denied he had any conflict with the dancer, suggesting that Dmitrichenko was trying to ruin his reputation before the attack with false allegations of favoritism.
Since the attack, both Sergey Filin and the Bolshoi's general director have left the theater. In 2013, a US dancer, Joy Womack, also left the company after claiming that she was asked to pay a 10,000-dollar bribe in order to dance a solo role.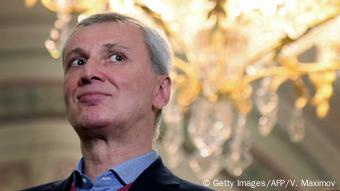 Makhar Vaziev has already built a reputation for being fair
"Myths and legends"
"There was none of that and there is none of that," the new director, Makhar Vaziev says, when asked whether roles were handed out in return for sex or money.
The man is a political outsider to the Bolshoi. He led the ballet company at St Petersburg's Mariinsky Theatre for 13 years before taking charge of the troupe at La Scala in Milan.
"There are lots of myths and legends," he says. "The problem is that this is a huge ballet company with its own rhythm and way of life. Our task is to show the very best ballet on the Bolshoi stage. I tell all the dancers: if you want to prepare something and show it to me, I will very happily watch."
A new approach
It is an approach that appears to have gone down well with dancers, who think there has been a shift in attitude at the theatre since Vaziev took on the director's role.
Denis Rodkin, a principal dancer, is currently rehearsing for the role of Ivan the Terrible; a ballet about one of Russia's most ruthless leaders, surrounded by enemies. The ballet is about politics, power and sex - things which have plunged the Bolshoi into crisis off stage.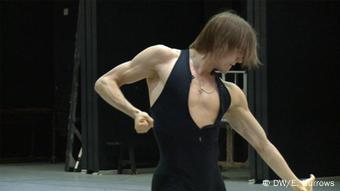 Denis Rodkin is happy with Vaziev's new approach
"Unfortunately under the previous leadership there was very much an atmosphere of sickness for everyone here," Rodkin tells DW. "People were thinking all the time about that and not about the ballet. Now the atmosphere is creative again and everyone is working to show that they are the best, that they have the ability to dance on the Bolshoi stage."
First soloist Anna Tikhomirova concurs. "As soon as Mr Vaziev arrived, everyone mobilized," she says in between rehearsing Giselle - a role assigned to her by the new director.
"He watches all the rehearsals and classes. He looks at everyone and gives everyone, including the younger dancers, a chance to show what they can do and I think this is really right," she adds.
More discipline for dancers
Vaziev's arrival as director has also been marked by the arrival of strict discipline, dancer Rodkin believes. "There wasn't this type of discipline in the past… There was some discipline but it wasn't as important as it is now. I see now that people are really trying hard, the halls have stopped being almost empty as they were before. Now everyone is trying to prepare something and to show something."
"I'd say Makhar Vaziev is lifting the classical level of the troupe," he says. "It's very important for the Bolshoi that first and foremost classical ballet is shown here and then modern choreography."
But it is because of this focus on the ballet classics that the Bolshoi was hit by the defection of two high-profile dancers to a lesser known theatre in 2011. Principal dancers Natalia Osipova and Ivan Vasiliev left the Bolshoi to move to the Mikhailovsky Theatre in St Petersburg because they said they felt creatively restricted in Moscow.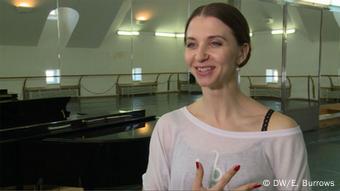 Anna Tikhomirova thinks highly of Vaziev's willingness to give new dancers a chance to prove themselves
"We didn't lose them, they are still alive!" Director Makhar Vaziev insists. "There is a type of dancer who is born with natural talent," he says. "No theater anywhere can satisfy all their creative needs. If the moment comes when a dancer wants to try something new and in a different place, why do we turn this into a catastrophe? It's a normal process. Our doors are always open for them."
Scandal 'a part of life'
The Bolshoi will be teaming up with one of those dancers shortly when it goes on tour to London where Natalia Osipova is now a principal dancer at the Royal Ballet. But the company is "not preparing anything special" for London, Vaziev says. "A theater like the Bolshoi simply has to be brilliant everywhere, in London and everywhere else."
"For me," he concludes, "the most important thing is for the company to appear on the Bolshoi stage. This is our main task. Above all, everything we do is for our audience here [in Russia]."
The Bolshoi's problems have not affected its popularity in its home country. "We live in a world where scandal is part of our life," one visitor says at a performance of Ivan the Terrible.
"Scandal doesn't influence culture," he says. "I'm personally very proud to be here. To see that Russian culture has a place in world culture."