Weeks separated news of a police raid on an Islamic school in Frankfurt and the announcement that the University of Münster had set up a department dedicated to educating Islamic teachers.
But the two items reveal the two-pronged approach taken in Germany on what is becoming an increasingly important front in the country's fight against terrorism: the battle for young Muslim minds.
After being tipped off by a 9-year-old student, police in Frankfurt seized Jihadist literature and videos, among them one showing a beheading, from the school hosted in a Moroccan cultural center. The news follows efforts by officials in the state of North-Rhine Westphalia to shut down a private Saudi-financed school after fundamentalist leanings were detected in the textbooks.
"The state has absolutely no authority in these schools, they can do what they want and that is very troubling," Lutz Irrgang, who heads the Hesse State Office for the Protection of the Constitution, told DW-WORLD.
Educating the next generation of Islam teachers
Officials know that raids alone can't root out radicalism in pockets of Germany's 3.2 million-strong Muslim community. One of the best hopes remains ending the monopoly on Islamic teachings held by dubious Imams and teachers in courtyard mosques, and bringing Muslim children back into the educational mainstream.

This week, the University of Münster took a step in that direction when it announced the appointment of Mohammed Sven Kalisch, a Muslim theologian who converted to Islam as a teen, to head the university's new department dedicated to educating future generations of Islamic teachers.

The department, the first of its kind in Germany, is designed to bridge the mistrust between German educational authorities and the country's myriad Muslim organizations. Kalisch, a favorite of both German educators and Muslim leaders, said he is fully aware of the way fundamentalist Imams use the Koran to send the wrong message.

"By educating Islamic teachers we, of course, hope to work against extremist tendencies," Kalisch said.
Problems begin after school
School authorities in Berlin, Bremen, Bavaria and North Rhine-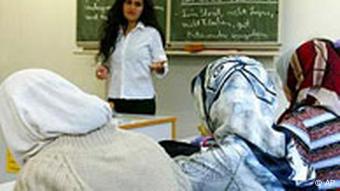 Turkish students taking Islam religion classes at a school in Bremen
Westphalia have already added Islam religion classes as an option to similar course offerings in Judaism and Catholicism. Lower Saxony recently announced similar plans to test out Islam religion courses.
The classes, taught by teachers who are practicing Muslims, offer Germany's estimated 800,000 Muslim students the possibility of learning about their religion in a way that officials can keep tabs on.
"It's like our classes on Catholicism and Protestantism," said spokeswoman Nina Schmidt. "By doing it in our school we can make sure that it's taught from an academic point of view, that no fundamentalist teachings slip in."
The problems begin after school is over for the day, when many parents send their children to private Koran lessons. It is at these schools that the seeds of fundamentalism are planted, say law enforcement officials. Raids by police across Germany routinely turn up the type of videos and literature found at the Frankfurt school.
Jihadis "rely more on indirect communication nowadays, like videos and tapes," said Kai Hirschmann, co-director of the Essen-based Institute for Terrorism Research and Policy. "That communication often takes place through the Koran schools."
Holy war at the school's Friday prayers
But not only there. School officials in North-Rhine Westphalia were appalled at the material found in textbooks seized at the King Fahd Academy in Bonn. The academy, funded by the Saudi Arabian government, caters to the sons and daughters of diplomats, Arabic families who stay in Germany for long periods as well as children with German citizenship or permanent resident status.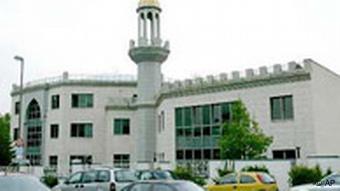 The King Fahd Academy in Bad Godesberg
More than 300 textbooks were confiscated as part of a police investigation into the school's fundamentalist tendencies in October 2003. The academy (photo), which opened in the quiet Bonn neighborhood of Bad Godesberg in 1995, had already suspended one teacher after he had allegedly called for Holy War against the West in Friday prayers.
Bonn school officials reviewing the teaching material found in a study that students were taught that "the Muslim people's existence has been threatened by Jews and Christians since the crusades and it is the first duty of every Muslim to prepare to fight against these enemies."
Though powerless to close the school, school officials were able to force at least 53 children with German citizenship or permanent residency status to leave the academy based on what they study. The cooperation between law enforcement and school authorities is by no means typical, but can sometimes be useful. Still, investigators say that the best methods are not frequent raids but education.
"One of the best tools," said Irrgang, "remains enlightenment."