The Ergenekon trial is one of the most contentious in Turkish history. Around 300 people - lawyers, politicians, journalists, company executives and ex-military staff -were charged.
They stand accused of being members of a terrorist network called Ergenekon (named after a place in Turkish mythology). It is thought to be part of the "Deep State" secret alliance, which is allegedly responsible for plotting attacks on and killing members of Turkey's political and cultural elite.
Their aim is, apparently, to set the scene for a military coup by spreading so much chaos and fear in Turkey that the armed forces would have to "restore law and order."
Turkey's armed forces traditionally see themselves as the nation's custodians and have staged three coups in the past. Members of Ergenekon are also accused of having plotted several coups against the government of Prime Minister Recep Tayyip Erdogan.
Contentious trial
The government insists Ergenekon is part of Deep State, but many in Turkey have their doubts, suspecting instead that the government itself is behind the killings.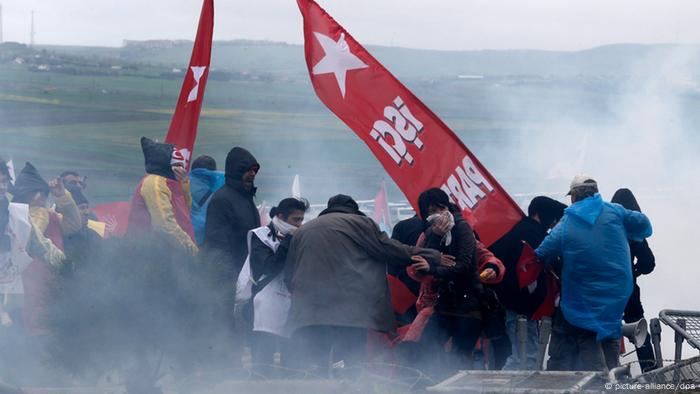 Police used teargas to disperse protesters critical of the trial
The trial is in its fifth year now and is highly contentious, as many of those charged have been in custody for unusually long periods and because the evidence produced against them is murky.
Critics say Erdogan's government is on a witch hunt against political rivals, but the prime minister denies the allegations.
"We are displaying a firm and brave attitude so we can defend our country against harassment from mafias and thugs," Erdogan said last Thursday (01.08.2013), emphasizing that no one was above the law.
Various Turkish intellectuals and artists, meanwhile, are using commercials to call for mass protests in front of the court in the town of Silivri near Istanbul. They call the detained "heroes, mothers and fathers."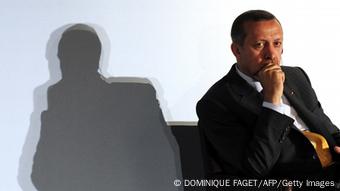 Critics question Erdogan's intentions
Is the government part of Deep State?
Investigative journalist and author Nedim Sener has been critical of Erdogan's government for years. In March 2011, he was arrested and detained for a year for allegedly being a member of Ergenekon.
"The evidence against us was simply the fact that we are writers and also helped others with their writing," Sener told DW. "The real reason for arresting me was my research on the killing of Hrant Dink and my books on the subject."
Armenian journalist Dink was killed in broad daylight in 2007. "The police officers in charge of the investigation back then are also now leading the investigation into Ergenekon," he says.
Sener also points to the murder of Catholic priest Don Santoro, who was killed in his church in 2006. "The perpetrators and those who oversaw and plotted these killings are all employed by the state, some of them are politicians," Sener claims.
"The violent reaction to the protests in Gezi Park lays bare the mindset of the state. If you shoot someone in the name of the state, there'll be no repercussions," Sener insists.
Politically motivated trial?
Many of those charged are innocent, Sener claims. "Some are being detained for the same period of time that a sentence would involve," he complains. The evidence, he says, is opaque and there are many unanswered questions.
The trial will not be remembered for exposing Deep State, but "it will be remembered for destroying the opposition," Sener told DW.
Solicitor Hüseyin Ersöz also thinks the trial is politically motivated. He represents two defendants in the Ergenekon trial - Tuncay Özkan, a journalist, and Mustafa Levent Göktas, a lawyer and former military sergeant.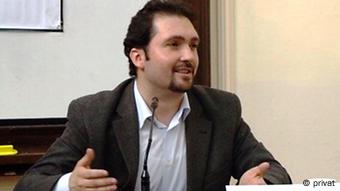 Ersöz says the trial is designed to silence the opposition
"Both have been accused of being members of a terrorist organization. They could both get a life sentence for attempting to stage a coup against the government," Ersöz explained to DW.
Ersöz points to the high number of digital documents being used as evidence. "Those are documents without signatures that can't be attributed to anyone," he says.
Göktas, for example, was indicted after a CD was found in his office. "Again, a digital document, which actually broke after the police confiscated it. So, Göktas is being tried on the basis of a CD that is now unusable, and he says it's not even his," Ersöz says.
Ersöz, who also calls the trial a witch hunt against critics of the state, does not expect anyone to be acquitted. He points to a recent verdict by the constitutional court, which reduced the sentence for so-called terrorists from 10 to five years.
Since many defendants have been detained for five years or longer, in practice, it would be an acquittal for them.
"But I don't think the court will hand down a fair verdict," he predicts. Quite the opposite - he expects most defendants to be sentenced to life.