Terrence Boyd knows the US national team's chances of success against Germany at the World Cup in Brazil this June as well as anyone else. The odds are long and the stakes are high, but as he told DW: "You never know what can happen at the World Cup."
The Bremen-born Boyd grew up in Germany, although plays internationally for his father's country - the United States. The 23-year-old Boyd came up through Hertha Berlin's academy and later drew the attention of US national team coach Jürgen Klinsmann while starring for Borussia Dortmund's reserve side. Following his national team debut in February 2012 and a subsequent move to Austrian side Rapid Vienna for more top flight action, Boyd has become a regular in the US setup.
He is now one of eight German-American players in contention for a World Cup spot on a German-coached team. And of all the countries for the US to be drawn with at the tournament in Brazil, they got the Germans, along with Portugal and Ghana.
"Crazy," said Boyd. "It's just such a big coincidence that we play Germany. It's a big game."
Facing a familiar foe
Germany, who are coached by Klinsmann's former assistant Joachim Löw, are the undoubted frontrunners in the June 26 encounter - the third and final group match for both teams.
"They're one of the favorites for the World Cup to win it," said Boyd. "Of course, we're going to prepare hard for these games, but at this stage it depends on the form that every player has on each day and the mentality."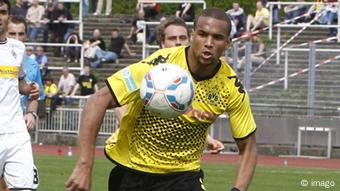 Boyd launched his professional career starring for Dortmund's reserve side
"There are so many things that you just can't control," he added. "The game could start and we could score a goal in the first minute and everything would look different, or the other way around. You never know, we'll just give our best and we'll see what comes out."
Klinsmann's players have made great competitive strides since his appointment in 2011, but they are still a long way from title contention. Nonetheless, Boyd says the US is a stronger team than the rest of the world might think, and their tough CONCACAF qualifying campaign that takes the team to hostile environments like Guatemala and Honduras might give them an extra edge that other countries lack.
"It's a different kind of soccer, it's hard. I've seen some things I didn't know could happen. Sometimes, we're playing with referees that don't even speak English," he said. "But you learn to just keep going and put your anger in your game."
Stateside aspirations
A major reason for the US national team's growth over the past two decades is down to the game's evolution on home soil. The US top flight, Major League Soccer, which was formed in 1996, has grown rapidly in recent years. The league has made a concerted effort to attract major US stars with lucrative contracts in the lead-up to the World Cup. This summer in Brazil, the three best US outfield players will be on the books at MLS clubs - captain Clint Dempsey (Seattle Sounders), Landon Donovan (LA Galaxy) and Michael Bradley (Toronto FC).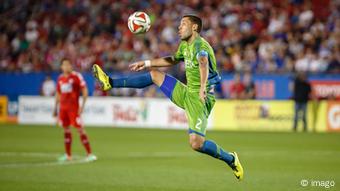 Dempsey is one of a number of US stars who've moved to MLS in their prime
Boyd says the MLS' development has made Europe-based players like himself start to consider the league as an option earlier than they might have just a few years ago - when the US was more widely known as a big money destination for aging stars like David Beckham and Thierry Henry. A promising Europe-based talent choosing to play in the US in his early 20s seemed out of the realm of possibility just three to four years ago, but now, he says it's a move he would "definitely" think about making.
"I'm a huge fan of MLS and I'm just happy with how MLS has developed and how American soccer has developed," Boyd said. "It just has to get more famous and I think it's going to be a great league one day."
"It's getting more attractive every year," he added.
The key to MLS' continued growth, said Boyd, is pulling the American youth away from the country's more traditional sports and making them play the world's most popular game.
"I think about all these great athletes that come out of high school and I think: 'choose soccer instead of playing basketball or [American] football,'" he said. "If they would choose soccer just think about what kind of league the MLS would be one day. All the surroundings are great, they're perfect, [plus] the media coverage, and they have the money as well. They have everything."
Boyd believes the upcoming World Cup is "a big commercial for soccer in the States" and MLS especially. A successful US team could be what's needed to influence a large portion of American kids to choose soccer first.
"Then [MLS] would be a hell of a league," he said. "It would be one of the strongest leagues in the world, just give it 10 years."
Happy in Austria
For now, Boyd says he's happy at Rapid - a tradition-laden club he sees as pivotal to his maturation as a player.
"I'm comfortable here. I think I've developed well, learned a lot, played in the Europa League," he said. "I'm enjoying my time now and hoping to make that next step."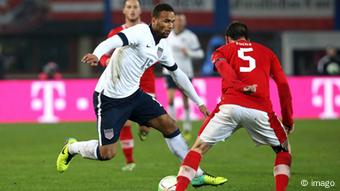 Boyd took played against Austria in a friendly last November
One of two top-flight Vienna sides and the only Austrian club to reach two European finals, the demand for success is high. Boyd's knowledge of the Austrian Bundesliga was limited when he first arrived from Borussia Dortmund in the summer of 2012, and he says he was surprised at the high-pressure environment at the club.
"I didn't expect it but then again this kind of pressure just helps you because if you want to get to a bigger league one day, there'll be way more pressure," he said.
If Rapid had their way, Boyd and the club would take the step to the next level of football together. Over the winter break the capital club brought in former Schalke and Hoffenheim sporting director Andreas Müller. The German immediately set out on his campaign to return Rapid to its status as one of Europe's "top 50 clubs."
"He's a big name when it comes to sport directors," Boyd said. "We're on the right path right now. We've got a young team, we're developing well."
The American's immediate objective, however, is making the World Cup roster and helping the US get out of its difficult group.
"From then on, you take every [match] one by one," he said. "Once you're in the knockout stages, anything can happen."