"Free Call International Advanced," "Call & Surf Comfort," "Extreme Playgrounds": the names look as though they could come from a British or American advertising catalog for telecommunications products.
But they are in fact the names German telecommunications giant Telekom gives some of its services and packages. It's this widespread use of English that has given Telekom CEO Rene Obermann the doubtful distinction of becoming this year's "Language Adulterator of the Year."
The title is awarded annually by the Association for the German Language (VDS) to the person or organization it feels has displayed the most flagrant use of Anglicisms in German.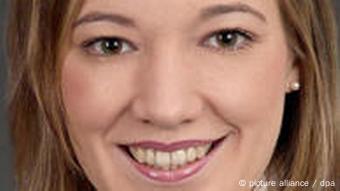 Schröder dubbed her gender salary gap initiative the "Equal Pay Day"
"Cabinet of horrors"
VDS chairman Walter Krämer said visiting the Telekom website was a "shock therapy in the cabinet of horrors of the German language."
He objects to the fact that almost all the products offered by Telekom have English names, ranging from Weekend Flats and Entertain Comfort to CombiCard Teens and Call & Surf Mobile Friends.
He accuses the company of "angering its customers for years with imported English words."
"International company"
Telekom has rejected criticism of the use of English in its product names, saying that the terms employed are now part of everyday speech. Company spokesman Christian Fischer said, "Telekom is an international company with international products that need international names."
Fischer added that there was no sense in using German product names for mobile phone advertisements at airports with international customers.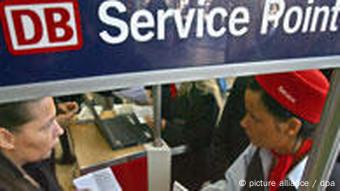 Rail operator Deutsche Bahn also likes Anglicisms
Second time for Telekom
Obermann is the second Telekom CEO to receive the title. His predecessor Ron Sommer was awarded the distinction in 1998 for using the English words "Sunshine" and "Moonshine" for rate packages.
Second place was given this year to German Family Minister Kristina Schröder for calling one of her initiatives "Equal Pay Day" instead of using the German equivalent.
Germany's Evangelical Church organization (EKD) landed in third place, accused of using English names for activities designed to attract younger believers.
The EKD has also rejected the criticism, saying that the names in question had been used by independent organizations only loosely attached to the central church.
Non-nationalist aims
The VDS, which is based in the western German city of Dortmund, was founded in 1997. Its avowed aim is to "preserve and promote the German language as an independent cultural language."
It now has around 34,000 members, making it the largest such organization in Germany. It claims that it is a non-nationalist group and that it is even in favor of using English words when a German one is not adequate.
Author: Timothy Jones (KNA, dpa, AFP)
Editor: Ben Knight