The consequences of a wiretapping scandal are closing in on Taiwan's former president, Ma Ying-jeou. The Taipei District Public Prosecutors Office indicted Ma on Tuesday for allegedly breaking a number of laws over the leaking of classified information.
Through a spokesperson, Ma responded to the announcement saying that he had done nothing wrong and that he was hoping for a fair and just decision in the case.
The charges are based on an accusation that in 2013, Ma unlawfully procured sensitive and confidential information about political opponents from his attorney general, Huang Shih-ming, who then illegally transmitted the information to the prime minister and other government employees. In 2015, Huang was sentenced to a 15-month prison sentence that was suspended for payment of a fine.
Ma was president of Taiwan from 2008 to 2016, and was immune from prosecution during his time in office. After he left the presidency, in November 2016, he was subpoenaed and spent many hours in court. If Ma is convicted, he could spend several years in jail.
An unwelcome listener
In 2013, Ma was embroiled in an intra-party power struggle with his main rival in the Kuomintang (KMT) party, the speaker of the legislature Wang Jin-pyng. Ma's Attorney General Huang had investigators wiretap the phone of opposition politician Ker Chien-ming.
They discovered that Wang had used his political influence in the judicial system on Ker's behalf. Ma, who was chairman of the KMT, used the widely publicized information to try and force his rival Wang out of the party.
An important motivating factor was that Wang was not being assertive in parliament on pushing through a trade agreement with China. Economic integration with China was a central aspect of Ma's policies as Taiwan's president. In the end, Wang was able to survive the political onslaught, due to his support within the KMT.
A defeat for Ma's China policy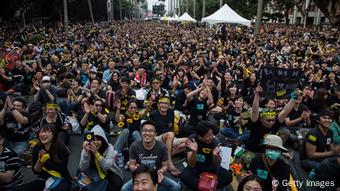 Students protest a 2014 trade agreement in Taipei
On the other hand, Ma's defeat in KMT party infighting was the beginning of the end for his presidency. In spring 2014, students occupied Taiwan's Parliament for weeks in protest of the planned trade agreement with China.
Wang refused to have police evict the protesters from the building and in the end he defused the situation by promising that future trade agreements with China would only take place with a greater say from parliament. This was an affront against Ma's government.
The controversial trade agreement is still stalled today and there have been no further free trade agreements proposed between Taiwan and China. In the aftermath, the KMT collapsed and suffered landslide defeats in the 2016 presidential and parliamentary elections.
While the charges against a former head of state are a good sign for the independence of Taiwan's justice system, they are a heavy smear on the reputation of Ma, who came into office with a straight-laced veneer and promised to fight political corruption.
And this isn't the first time that a Taiwanese ex-president has stood before a court. Ma's predecessor Chen Shui-bian was convicted in 2009 of corruption and sat for six years in prison until he was released on health grounds. At the time, Chen's supporters accused the KMT of a political witch hunt. The news of Ma's indictment will therefore surely be more good news for his opponents.