Taiwan's armed forces on Friday scrambled fighter jets in response to a Chinese military drill involving H-9 bombers.
Two Chinese H-9 bombers flew over the Bashi Channel south of Taiwan and then through the Miyako Strait, bringing them near northeastern Taiwan.
"We are fully monitoring the situation and taking efficient responsive measures to ensure defense security," said Taiwan's Defense Ministry.
The ministry said the Chinese aircraft appeared to be engaged in a long-range training exercise, adding that people in Taiwan should not be alarmed by the operation.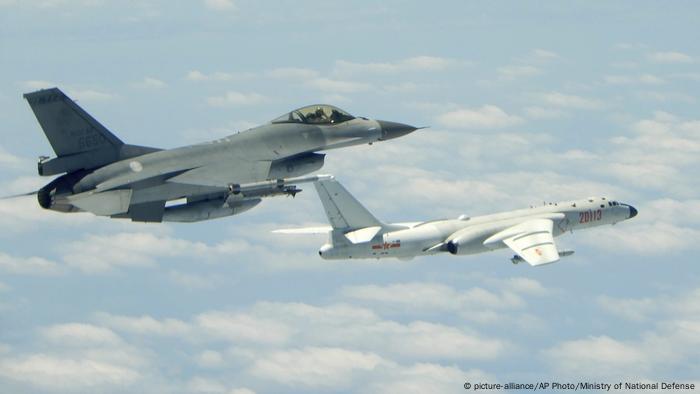 Earlier this month, Taiwan had to deploy fighter aircraft to accompany a Chinese H-6K bomber that flew over the Luzon Strait, just south of Taiwan
'Crude behavior'
Since Taiwanese President Tsai Ing-wen assumed office in 2016, relations between Beijing and Taipei have steadily deteriorated.
Beijing fears Tsai may push for an independence referendum, although she has said she wants to uphold the status quo.
China's deployment of two bombers to circle Taiwan on Friday comes as Taipei lost a diplomatic ally this week. Burkina Faso announced on Thursday that it had severed ties with Taiwan, with analysts suggesting it had caved under Chinese pressure.
Tsai said on Thursday that Taiwan would not bow to Beijing's "crude behavior to undermine our sovereignty."
'Unification of the motherland'
China has increasingly sought to isolate Taiwan internationally, as it sees the island nation as a breakaway province.
Taiwan now has formal diplomatic ties with only 18 countries, down from 22 in 2016.
In March, Chinese President Xi Jinping issued a warning against "any actions and tricks to split China" in what observers believe was a veiled threat directed at Taiwan.
"Maintaining national sovereignty, territorial integrity and complete unification of the motherland is the common aspiration of all Chinese," Xi said.
ls/sms (AFP, Reuters)
Every evening at 1830 UTC, DW's editors send out a selection of the day's hard news and feature journalism. You can sign up to receive it here.