Troops loyal to the government of President Bashar al-Assad severed the last main road leading into al-Bab, leaving "Islamic State" (IS) militants there "completely besieged," the Syrian Observatory for Human Rights said Monday.
Turkish troops and Syrian opposition fighters have been trying for weeks to take control of the town, which lies just south of the border with Turkey. The recent gains by pro-regime forces mean al-Bab is now encircled.
"Al-Bab is now completely besieged by the regime from the south, and the Turkish forces and rebels from the east, north and west," the Britain-based monitor said. It added that "the regime's forces and allied militia seized the only and last main road used by the jihadists between al-Bab and Raqqa." Raqqa is the militant group's de facto capital in Syria.
The Observatory, which relies on a network of sources on the ground, said the Syrian army's advance was backed by Russian artillery and fighters from the Lebanese Shiite movement, Hezbollah. Mustafa Sejari, a senior official with the Turkish-backed Syrian rebels who have been waging their own battle for al-Bab, said his troops would fight regime forces if they got in the way.
Danger of clashes?
More than 310,000 people have been killed in the war in Syria, which broke out in 2011 after a popular uprising against Assad's regime. The conflict is complex and multi-sided, with the Syrian government army, Turkey and its rebel allies, and an alliance of US-backed Syrian militias all involved in the fight against 'IS.'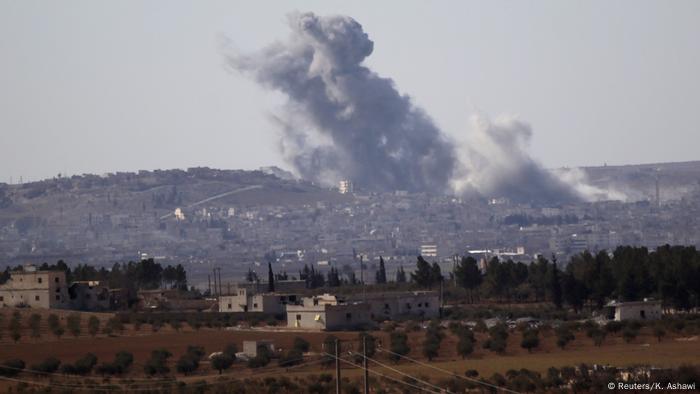 Turkish-backed rebels have been trying to advance on the town for months
Although Turkey and Russia have backed opposing sides for much of the war, the two have also joined forces in recent months to try and bring an end to the conflict. The two countries brokered a fragile ceasefire in December between the Syrian government and rebel groups fighting to topple Assad.
Experts from Russia, Turkey, Iran and the United Nations met in Kazakhstan's capital, Astana, on Monday for talks on the implementation of the ceasefire deal. A spokesman for Kazakhstan's Foreign Ministry said the parties also discussed preventing provocations and securing humanitarian access.
nm/rt (Reuters, AFP, AP, dpa)