The High Negotiations Committee (HNC), which represents more than 30 groups seeking to topple Syrian President Bashar al-Assad, revealed its 25-page political transition plan for Syria at a conference in London on Wednesday.
The plan calls for a ceasefire to allow six months of negotiations with President Bashar al-Assad's government to establish a transitional administration comprising opposition, government and civil society figures. At the end of those six months, Assad would be required to leave office. The transitional body would run the country for the following 18 months, after which there would be internationally supervised elections.
"Syria wants to see Bashar leave. If Bashar leaves, will the fighting go on? No," HNC head Riad Hijab said.
The plan was to be discussed at talks hosted by British Foreign Secretary Boris Johnson involving the HNC and foreign ministers of the EU, United States and regional powers.
On Wednesday, German Foreign Minister Frank-Walter Steinmeier told the Bundestag that he would continue to press for a ceasefire in Syria.
"We cannot and will not accept that this death and suffering continues from the fifth year of the civil war into the sixth," he said.
Johnson urges Russia
In a column published in Wednesday's edition of "The Times" newspaper, Johnson backed the HNC's plan, accusing Assad of "barbaric military tactics" and criticizing Russia for supporting him.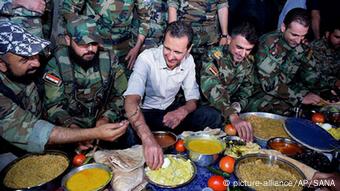 Assad's future has been a major sticking point in negotiations
"Even the Russians have accepted that there must be political transition," Johnson wrote. "But then the Russians are also employing their military muscle to prevent him from losing and to keep him in power."
The HNC's plan largely lines up with existing international proposals for Syria - although, unlike other frameworks, it is clear about Assad's future.
"The establishment of the Transitional Governing Body shall require the departure of Bashar al-Assad and his clique who committed heinous crimes against the Syrian people," it said.
The proposal's release comes amid discussions between the US and Russia to end the multifaceted conflict, which has lasted five and a half years and killed more than 290,000 people. About 11 million people have had to flee their homes.
On Wednesday, Russia's Foreign Ministry announced that Foreign Minister Sergei Lavrov would meet US Secretary of State John Kerry on Thursday and Friday in Geneva to discuss the situation in Syria.
The US State Department responded, however, that Kerry spoke with Lavrov but did not have any travel plans to announce.
Thousands more displaced
Intense fighting between insurgents and Syrian government troops in the country's central Hama province displaced about 100,000 people in a period of eight days between late August and early September, according to the UN's humanitarian agency.
A northward push by insurgents led by an ultraconservative Islamic group in Hama province dislodged government troops from areas around the provincial capital, also called Hama, but met an intense government bombing campaign. The fighting and bombardment led tens of thousands of people to flee for safety.
In a "flash update" on Tuesday, the Office for the Coordination of Humanitarian Affairs announced that figures showed nearly half of Hama's displaced arrived in the neighboring Idlib governorate, held by rebels, while others fled to government-controlled Hama city. Mosques and schools have been converted to emergency shelters. But the UN agency said a shortage of space meant many displaced families were sleeping outdoors in parks in Idlib.
OCHA reported that the UN was evaluating the humanitarian situation and had sent an "interagency convoy with life saving supplies to Hama."
se/sms (Reuters, AFP, AP)