Authorities in Switzerland said the people injured in the attack had been taken to various hospitals in the Canton of St. Gallen, in eastern Switzerland.
Those injured included a 6-year-old child, a boy and girl, both 17, a 50-year-old man and two women aged 34 and 43.
A motive for the attack was not given.
A police spokesman quoted by Reuters said "a terrorism background still seems very, very far-fetched," adding that the possibility of a crime of passion could not be excluded.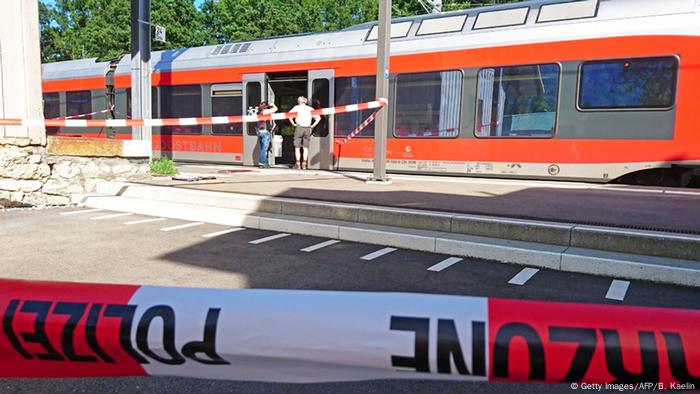 Police stand on Salez station, after the train attack
'Liquid caught fire'
"According to current information a 27-year-old Swiss man poured out a flammable liquid. He was also armed with at least one knife. The liquid caught fire," St. Gallen cantonal police said in an initial statement.
The attacker was also taken to hospital with injuries.
The train had been approaching the station of Salez, close to Switzerland's mountainous eastern border with neighboring Liechtenstein, police said.
A massive contingent of rescue workers rushed to the scene, including police, firefighters, ambulances and three rescue helicopters.
The Salez station remained closed after the attack. Police said substitute buses for passengers had been arranged.
Damage to the train was estimated at upwards of 100,000 Swiss francs (92,000 euros).
It was the first attack of its kind in Switzerland in recent memory.
Europe on edge
France, Belgium and, more recently, Germany have been on edge over a string of attacks that began in Paris in early 2015 and have resulted in more than 250 deaths, mostly in France.
Many of the assaults were subsequently claimed by the so-called "Islamic State" (IS)
militant group. Others were described by authorities as "lone wolf" attacks.
On July 14, a Tunisian man rammed a truck into crowds of revelers in the southern French city of Nice, killing 85 people.
On July 18, a 17-year-old refugee from either Pakistan or Afghanistan stabbed and injured four tourists from Hong Kong on a train near Germany's Bavarian city of Würzburg.
In both incidents, the assailants were shot dead by police.
jm, ipj / ss (Reuters, dpa, AFP)