"It's bulls*it. Anyone who says such a thing should spend his next holiday here in Syria and see what we're doing," Cosar, a Swiss battalion commander of the Syriac Military Council - a rebel group fighting against "Islamic State" (IS) forces - said in response to an array of online comments alleging that he would be capable of killing people once he returned home.
"I didn't do anything against Switzerland and I'm sure the Swiss understand this."
The setting was surreal for DW's interview with the former Swiss army sergeant turned freelance journalist turned battalion commander for the Christian forces on the front lines fighting IS in the Kurdish region of northeast Syria.
Wearing a military uniform and a bandana across his forehead, Cosar sat cross-legged in a makeshift tent on a grave.
The graveyard was on top of a barren hill that looks toward the Islamic State forces one kilometer in the distance and the Kurdish city of Qamishli about 10 kilometers behind.
But this was no ordinary graveyard. Sandbags now lay on top of people's graves to make room for sniper positions while countless graves were littered with bullet casings.
One person's grave was now the "bedroom" - a grave equipped with a thin mattress and sheet where men took it in turns to get a few hours sleep if not on guard duty during daylight hours.
Another grave had been transformed into the "Internet room" - the only place on the hill where there was phone reception.
From Switzerland to Syria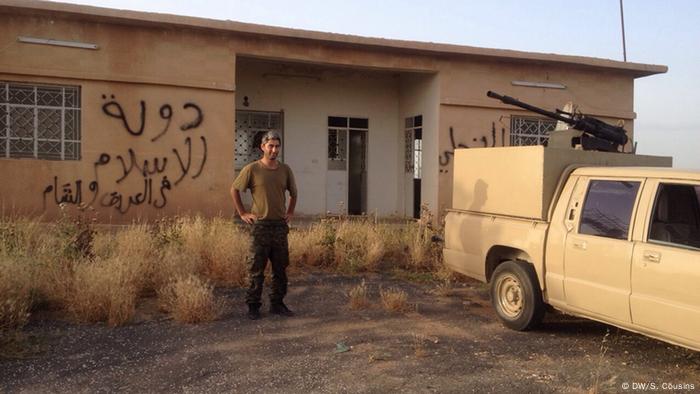 Johan Cosar is on a mission to give the Syriacs a fighting chance
Cosar, who was born St Gallen in northeast Switzerland, spent his youth in Ticino, the southernmost canton of the country.
He is of Syriac origin - his parents come from one of the oldest Christian communities in the region. "I didn't come to Syria in order to fight," Cosar, who is also a member of the central command of the Syriac Military Council, also known as MSF, said.
"I saw that I could help and started giving people tips on how to use weapons and how to organize checkpoints. None of us likes war or weapons."
He stressed that he was defending villages and towns where Islamists came to behead people, young and old. "The Syriac Military Council was founded in order to protect the Syriac identity in Syria," he said.
"We're not just a minority, neither here or abroad. We're a people and our roots are here."
The Syriac Military Council was formed at the beginning of 2013 as the military wing of Sutoro, the Syriac Christian militia that serves as a security force in the three self-declared autonomous regions in northeast Syria.
Sutoro secure the inner city of the three cantons - Cizire, Kobani and Efrin - while MSF, which only has a few hundred men, is allied with the YPG, the People's Protection Unit, fighting the Islamic State forces.
Cosar said he didn't believe the YPG's affiliation with the Kurdistan Workers' Party (PKK), the Turkish-Kurdish guerrilla group designated as a terrorist organization by the US and European Union, was a problem because they "defend democracy, freedom and humanity."
'I miss the mountains'
He said despite only having a couple of hundred men (he wouldn't specify exact numbers) and light weaponry, he hadn't lost any men as of yet. "We haven't lost a single man. We don't need any additional fighters. The Kurds have 40 years of experience in fighting; we've only been around for two years. Our training is more modern than theirs [the Kurds]."
"Thank you Switzerland," he added, a nod to his military training, but stressed that they needed more weapons.
Cosar described a type of modern warfare that was difficult to imagine.
He said the offensive to take Tel Hamis began at the beginning of September and had, so far, involved walking to the enemy's base in the pitch dark, with no night vision, and engaging in gun battles only a few meters away.
As Cosar, covered in dust, looked to the Islamic State front line in the distance, he wiped his dreary eyes and said he'd barely slept for a month.
"Do I miss Switzerland? Of course I do. I miss the mountains. Look at these ones," he said jokingly.