Swedish police have started investigations after an arson attack on a mosque in the city of Uppsala early on Thursday morning, in which a racist slogan was also scrawled across the door of the building.
"Someone threw a firebomb, a Molotov cocktail at the building," a spokesman for Uppsala police told Swedish news agency TT, adding that the perpetrator or perpetrators also wrote "some vulgar racist words."
No one was in the building at the time of the attack, and the Molotov cocktail extinguished itself before causing any damage, the spokesman, Torsten Hemlin, said.
Police in Uppsala, Sweden's fourth largest city, arrived at the scene after passers-by reportedly saw a man throw a burning object at the mosque.
Spate of attacks
The incident is the third arson attack on a mosque in Sweden in a week.
On Monday, a fire broke out at a mosque in Esloev in southern Sweden, which police also suspect was arson.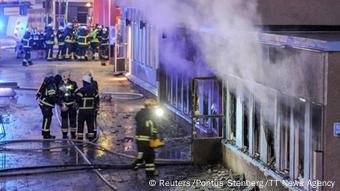 Five people were injured in the Eskilstuna attack
And on Christmas Day, a week ago, a petrol bomb was thrown through the window of a mosque in Eskilstuna, east of the capital Stockholm, injuring five people.
Altogether at least 12 attacks on mosques have been confirmed this year, according to the anti-racism magazine Expo, a figure that runs counter to Sweden's traditional reputation as a tolerant nation.
Growing debate
The spate of assaults on mosques comes as Sweden prepares to receive an expected 100,000 asylum applications this year, a figure that breaks all previous records.
In a challenge to the liberal refugee policies of the left-green government, the far right Sweden Democrats, which gleaned 13 percent support in the September elections, have called for immigration to be cut by up to 90 percent.
The party, together with the conservatives, almost succeeded in bringing down the government in early December, but the government wa able to make a deal with the center-right opposition on December 27 that effectively denies the Sweden Democrats influence over major policy, including immigration policy.
A spokesman for the Sweden Democrats has condemned the recent attacks as "unacceptable," while saying they were simply criminal acts, and not politically motivated.
tj/rc (AFP, KNA, dpa)