After Germany's upset of the United States on Friday night, coach Marco Sturm had told reporters that 24 hours later, Sweden would pose an even greater challenge - and how right he was. The Swedes are every bit as skilled as the Americans, but with an average age of 26 as opposed to 23, they are also more experienced.
What coach Sturm also knew was that for his team to have a chance against the Tre Kronor, made up this year almost exclusively of NHL stars, he would need his team to execute his game plan to a tee, and goaltender Thomas Greiss would need to have another almost perfect game. Unfortunately for Sturm and his men, it all didn't come together on Saturday the way it had on Friday.
Level after one
It was another busy night for Greiss, particularly in the first period, when he stopped all but one of the 22 shots the Swedes fired at him. The only one that did get through was partly down to bad luck, as Oliver Ekman-Larsson's shot from he point deflected off a German defender and into the net at 6:56. It took almost 10 minutes for Germany to strike back, but equalize they did - on a wrist shot through traffic from Patrick Hager that slipped between Swedish goalie Viktor Fasth's body and his glove. Germany then held on for dear life, escaping to the dressing room tied at one.
The Germans got off to a catastrophic start to the second frame, though. After defenseman Moritz Müller took a slashing penalty just seven seconds in, Sweden scored on the powerplay to take the lead with a goal from Victor Rask at the period's 23-second mark. But this time Germany would equalize much more quickly - just over five minutes later - with Philip Gogulla finishing a nice move on another powerplay.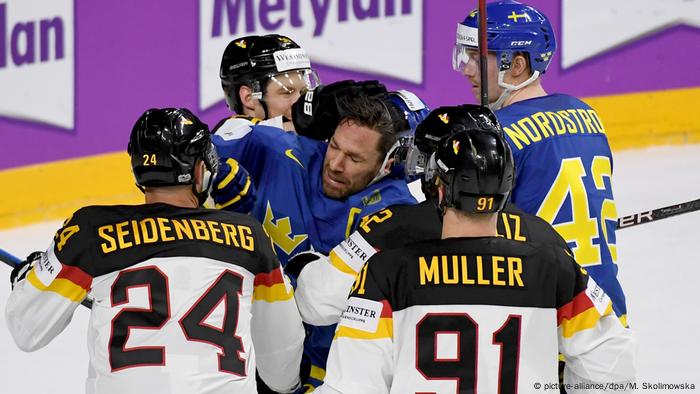 Germany battled hard against the Swedes, keeping it close until the third
Two late-period goals
However, just when you started to think the two teams might go into the rooms tied, Linus Omark managed to poke the puck over the line after Greiss had already made a couple of saves with just under five minutes to go. Then, with less than three seconds to go in the period, Jonas Brodin struck to put Germany behind the eight ball going into the third.
After the game, coach Sturm said that this had sealed Germany's fate.
"We fell asleep and made some mistakes in the last five minutes of the second period," he said. "Perhaps it was too much for us to maintain that high level that we played at (against the US) for six periods."
Still, the Germans fought bravely for the first half of the third period, unable to score, but keeping the Swedes from scoring any more. However, after Gabriel Landeskog did get on the scoresheet at 9:50 of the period, the roof caved in, with William Nylander scoring a pair less than two minutes apart to make it 7-2. Sturm elected to give goalie Greiss some well-deserved rest, putting in the backup, Danny Aus den Birken.
Next stop: Russia
To be fair, almost nobody had given the Germans much of a chance against the Swedes, who are seen as one of the favorites to win a medal - maybe even gold, although both the coach and his players were clearly disappointed at the margin of the defeat.
However, just a couple of days ago there had been fears that Germany would get nothing out of their first three games - against the three toughest teams in their group. And despite Saturday's lopsided defeat, Friday's win over the US already prevented that worst-case scenario from becoming reality.
"Look, we are two games into the tournament and we have won one of them, so we have to see that in a positive light," Sturm said.
Now the Germans have a day off to recover, before they face what promises to be an even tougher challenge.
"We're just going to forget about this one tonight and regroup and get back to work against the Russians in two days' time," the coach said.