An Uzbek national was charged with terrorism-related offenses on Wednesday after allegedly killing eight people and seriously injuring 12 others with a rented pickup truck in New York City on the previous day.
Federal prosecutors said 29-year-old Sayfullo S. was "consumed by hate and a twisted ideology" when he attacked people on a bike path on Tuesday. Police said he had been planning the attack "for a number of weeks."
Read more: From Uber to terror: Who is the New York City attacker?
Prosecutors said Sayfullo S. was spurred on by a call to action by "Islamic State" (IS). Investigators came to that conclusion following the discovery of a note in the truck and from data on his phone, as well as from questioning.
He was charged with providing material support to IS, committing violence and destruction of a motor vehicle causing death.
Sayfullo S. faces the possible death penalty for the charges. He appeared in the New York federal courthouse on Wednesday in a wheelchair, having been shot by police following the attack.
The incident occurred in lower Manhattan shortly after 3 p.m. local time (1900 UTC) near the World Trade Center Memorial. Police opened fire after he exited the rental truck armed with a paintball gun and a pellet gun while reportedly shouting "Allahu Akbar." He is expected to survive, and even asked to display an IS flag in his hospital room, according to prosecutors.
Who was the attacker?
Police officials on Wednesday confirmed that the suspect was a legal permanent resident who came to the US from Uzbekistan in March 2010. He had not been the subject of either a police investigation or an FBI investigation. The suspect was once an Uber driver, according the ride hailing company.
Prosecutors allegedly found IS-related propaganda on his two mobile phones, including images of prisoners being beheaded, shot or run over by a tank.
The father of two was described by acquaintances as a hot-headed man whose career had fallen apart.
Read more:
- Facebook, Google, Twitter agree on plan to counter Islamist terror
- Boston man convicted of plotting to behead blogger for 'Islamic State'
- EU introduces new measures to combat 'low-tech' terrorism
Who were the victims?
Five of the victims killed in the attack came from Argentina, the country's foreign ministry and US officials confirmed. They were part of a group of friends celebrating the 30th anniversary of their graduation.
A Belgian woman and two US citizens also died in the attack, fire department officials confirmed on Wednesday.
Of the 12 wounded, four people are in critical but stable condition while five are in serious condition, New York Fire Commissioner Daniel Nigro told reporters.
One of the survivors suffered two amputations while others sustained "serious head, neck, back and chest trauma, and trauma to arms and legs," Nigro said.
Two adults and two children traveling in the school bus at the time of the crash were also among the injured.
Act of terror
US President Donald Trump condemned the attack and ordered newly tightened security checks on immigrants to be strengthened even further. He indicated the incident was a terror attack linked to IS.
On Wednesday, Trump noted that the attacker entered the country through the "Diversity Visa Lottery Program" and called on lawmakers to "immediately" begin working on scrapping the program. The visa program applies to countries with low rates of immigration into the US.
He also said he will consider sending the suspected attacker to the prison at Guantanamo Bay, Cuba. White House spokeswoman Sarah Sanders told reporters that Trump considers S. an "enemy combatant," a designation that would curtail his legal rights.
"We must not allow ISIS to return, or enter, our country after defeating them in the Middle East and elsewhere. Enough!" the president wrote on Twitter on Tuesday.
"I have just ordered Homeland Security to step up our already Extreme Vetting Program. Being politically correct is fine, but not for this!"
Read more: US restarts stricter refugee program, 11 countries still banned
Trump also released a statement expressing thanks to the first responders "who stopped the suspect and rendered immediate aid to the victims of this cowardly attack. These brave men and women embody the true American spirit of resilience and courage."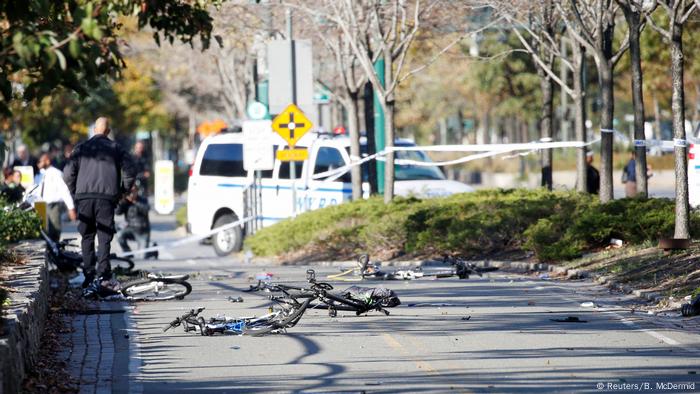 Witnesses described a scene of panic with people screaming in fear and the path strewn with bodies
New York City Mayor Bill de Blasio called the incident "an act of terror, and a particularly cowardly act of terror, aimed at innocent civilians."
New York Governor Andrew Cuomo called it a "lone wolf" attack, saying there was no evidence of a wider plot.
Editor's note: Deutsche Welle follows the German press code, which stresses the importance of protecting the privacy of suspected criminals or victims and obliges us to refrain from revealing full names in such cases.
rs, aw, amp/jm (Reuters, AP, dpa)