French police shot and arrested the suspect in the morning's attack on a group of soldiers after a dramatic chase on the A16 motorway, north of Paris.
Some 300 police tracked down the car sought in connection with the attack, which left six people injured. The vehicle was reportedly riddled with bullet holes on the site of the arrest.
The suspect, a 36-year-old Algerian man, was hospitalized after being shot five times by officers. Officials were yet to provide details on his condition.
Read more: Madrid to Manchester to London: A chronology of terror in Europe
According to the Reuters news agency, citing unnamed judicial sources, the suspect was unarmed when he was arrested. However, one officer was injured by a stray bullet as police opened fire.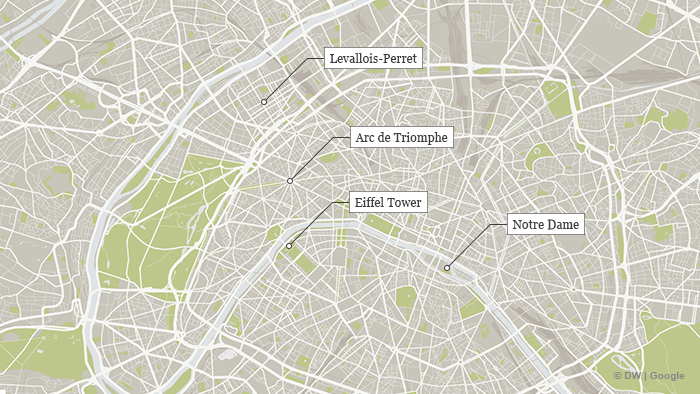 French President Emmanuel Macron applauded the security forces on Twitter for detaining the suspect, adding: "Vigilance remains a duty at all times."
Early morning attack
The vehicle, a dark BMW car, hit the soldiers at Place de Verdun in Levallois-Perret at the northwestern edge of Paris on Wednesday at about 8:00 a.m. local time (0600 UTC).
The mayor of Levallois-Perret, Patrick Balkany, told French television network BFMTV that the act was "odious" and "without a doubt deliberate." He also said the car appeared to have waited in a nearby alleyway until the soldiers emerged from their barracks to start their patrol.
"The vehicle did not stop. It hurtled at them ... it accelerated rapidly," he told the TV station.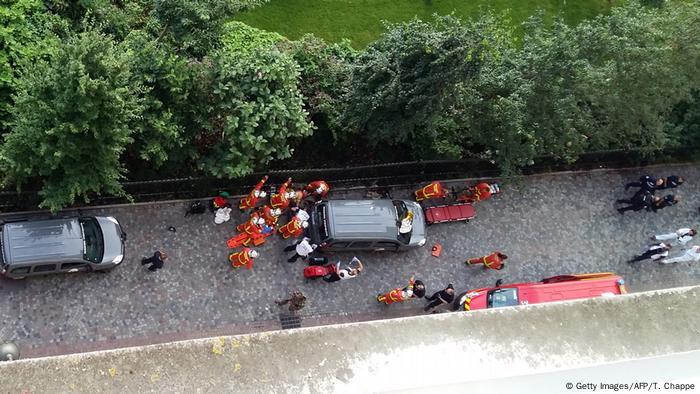 Police were investigating the scene of what they called a deliberate attack
The attacker apparently targeted members of the Sentinelle security force, which was created after Islamist attacks in 2015. Six soldiers were injured in the hit-and-run, three of them seriously. The French Defense Ministry said their lives were not in danger.
Prosecutors launched a probe into "attempted killings... in relation to a terrorist undertaking."
The incident comes four days after a teenager with psychiatric problems tried to attack security forces guarding the Eiffel Tower, shouting "Allahu Akbar" (God is greatest). Several other extremists also attacked security forces in Paris earlier this year.
French Prime Minister Edouard Philippe said that, despite the high threat of terror attacks in France, the government would stick to its plan of lifting the state of emergency, imposed following the deadly extremist attacks in Paris in November 2015 and now in its 21st month. President Emmanuel Macron intends to introduce a new bill permanently enshrining counterterrorism measures, which he claims will sufficiently replace the state of emergency.
ng, dm/sms (AP, AFP, Reuters)