For the last two decades, property speculation in China has been a one-way bet. Take 57-year-old Shanghai businessman Tai Pei, for example. Having watched the Chinese real estate market grow for many years, he too was tempted to grab a slice of the incredible profits from the country's massive construction boom.
Tai bought three downtown apartments in China's commercial capital and made almost 10 million yuan (€1.27 million, $1.44 million) profit when he sold two of them sometime later.
At the beginning of this month, however, the developer of the apartment block where his third property is located suddenly dropped the price by a third, due to enquiries drying up. The abrupt change of fortune prompted many existing owners to protest outside the sales office, demanding compensation.
Developer cheated people
"Clearly the developer pushed up the price [of the flats] to cheat people when they already had plans to reduce them," Tai told DW.
Read more: China's GDP growth slows to lowest rate in years
He said the developer offered existing owners new cars or cash, but many investors, who took large bank loans to profit from flipping property over short periods, refused what they say is a derisory attempt to silence them.
The property protests have not been limited to Shanghai and, in some instances, have even turned violent. In Xiamen, in China's southeastern Fuijian province, anger spilled out on the streets after the price of one luxury villa was cut by 2 million yuan, having sold for more than 5 million a year earlier.
Such was the bitterness at the price drop, the developer — China's largest residential real estate company, Vanke — was pressured to pay out a million yuan in compensation to some 100 existing owners.
Similar protests in Shangrao, Xiamen, Guiyang, and Hangzhou saw property owners demand the return of their money from construction firms, amid fears their losses could be much larger than in a previous downturn in 2014.
New term for angry speculators
Property protests are becoming so regular in China that a new term has emerged on social media. "Fang Nao" literally means property trouble-making.
Read more: China's artificial moon — The numbers 'just don't add up'
Although official data suggests China's property market is up 7 percent over the past 12 months, and grew 1 percent in September alone, other figures suggest interest in new properties has recently fallen by almost a third.
While many analysts predict a mild dip in property prices over the next 12 months as a result of Chinese government measures to cool the market, the large discounts offered by many developers — sometimes more than a quarter of the original price — tell a different story.
"Fang Nao will become more regular," warned economist Tan Haojun recently in a blog post. "When that happens, things will spin out of control and may result in social unrest." He noted that many of China's major property developers are heavily indebted, and predicted that several could go bust if their income dries up quickly.
Tan sees the Chinese government intervening further to ensure property prices correct gradually. "If property prices drop by half, a [banking] crisis will break out for sure," he warned.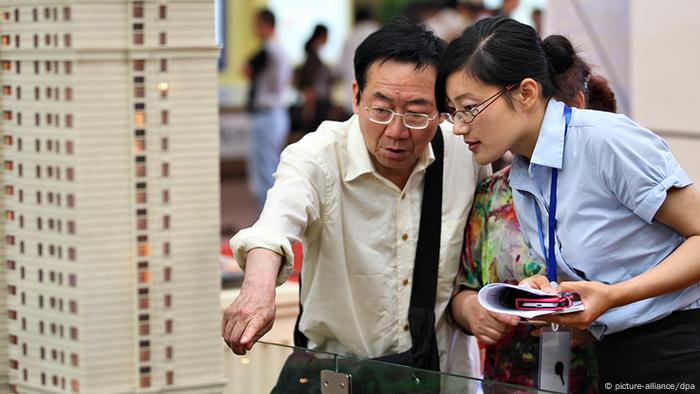 The shine appears to have come off the Chinese property market as developers slash the price of new build flats
'No wider crisis likely'
Iris Pang, Greater China economist for the Dutch bank ING, predicts a price correction of 5 to 10 percent over the next 12 months. But she still sees strong demand for property in China's largest cities and doesn't think real estate woes will drag down the rest of the economy.
"Jobs are still secure in China, [so] we don't see homeowners selling property and other assets because they can't repay mortgages," she told DW.
Read more: Hong Kong protesters decry real estate plans for artificial islands
The Chinese government is expected to keep a tight lid on mortgage lending for at least the next year, said Zhang Hongwei, research director at Tospur Real Estate Consulting in Shanghai. "The government has become very experienced at handling the macroeconomic environment. [Adjustment] policies will be varied across different cities according to their individual needs," he told DW.
But even developers appear to have lost faith. The Reuters news agency cited Vanke Chairman Yu Liang as telling staff last month that "survival" was the ultimate goal for the developer over the next year, adding that the property market's "turning point has really arrived."
Speculators chided on social media
Indebted Chinese property speculators can't necessarily count on much public support, now that the market has turned against them. "The price goes up, you are happy. The price goes down, you make trouble," wrote one person on Chinese social media platform Weibo, in response to the protests.
Others blamed speculators for causing a massive affordability issue for ordinary Chinese people trying to buy their first property.
"It's exactly these people who buy properties to speculate that have created the property bubble," another user wrote.
An editorial for the website Sina Finance, meanwhile, accused property investors of violating "the spirit of contracts" by protesting.
"After many years of a property bubble that has made many people rich, those [speculators] should realize that the period where property prices only went up and never the other way, is over."
Amid the realization that he may not make such large gains on his third property, Tai now agrees the era of big profits from property speculation is probably at an end.
"The economy is not doing well. Both the stock market and the property market are depressed. I think it's all reached a ceiling," he told DW.
Each evening at 1830 UTC, DW's editors send out a selection of the day's hard news and quality feature journalism. You can sign up to receive it directly here.